I had hopes and dreams of posting about Valentine's day in the month of February but they crashed and burned. I'm so behind. In most areas of my life. But I'm in the moment every evening with my girls. And that's where I want to be. Yes, I have 1.7 million photos I need to upload, organize, and blog. My house needs dusting and vacuuming. I have laundry that needs to be washed, folded, and put away. There are papers to grade and lessons to plan. Groceries need to be purchased and homemade meals cooked. But each night I try to push those things out of my mind and just focus on playing with the girls. We play dollhouse and barn. We give babies stroller rides and diaper changes. We build Lego towers and robots. We read a zillion books. We sing songs and nursery rhymes. Derek and I crack up at the things Ingrid says and does. We clap and dance every time Liv laughs out loud, reaches for a toy, or rolls over. So all those other things can wait. These are the important things right now.
Back to red, pink, white, and all things hearts. I got to sew a lot while I was on maternity leave and it was the most fun I have had creatively in a long long time. I loved every second of it. I made Valentine outfits for all four girls. I didn't get pics of Elise's shirt and skirt though :( I made Amelia a jumper with heart pockets and an appliqued bird. I sometimes wish I had a fancier sewing machine so that I could buy millions of cute applique patterns and applique my heart out. But it is challenging not having that. Challenging in a good way. I created the bird myself, from a sketch, and free handed the beak and legs. It was fun. In hind-sight I should have added stabilizer to the red fabric before I lined the dress so the bird wouldn't have puckered the material so much. But it's still a cute little jumper.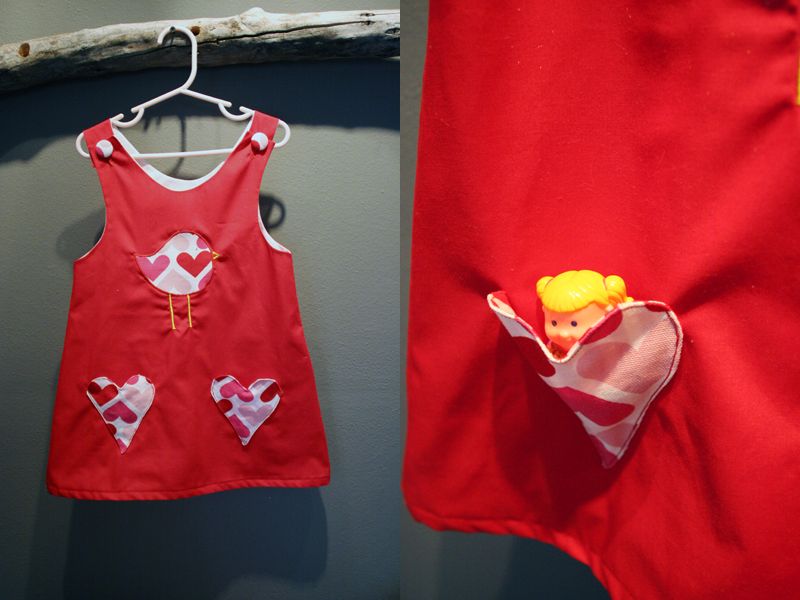 I made Ing a jumper too, but a little different style. A higher neckline, thicker straps and unlined. This fabric was pretty thick, so I didn't want to line it and make it heavier. So I got to use single fold bias tape for the first time. I have only ever used double fold bias tape--that you see from the outside of the garment. I really liked the finished product.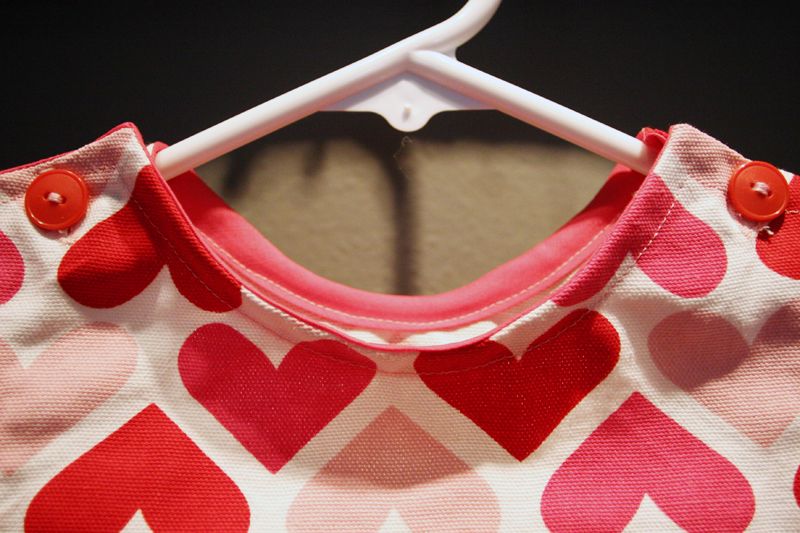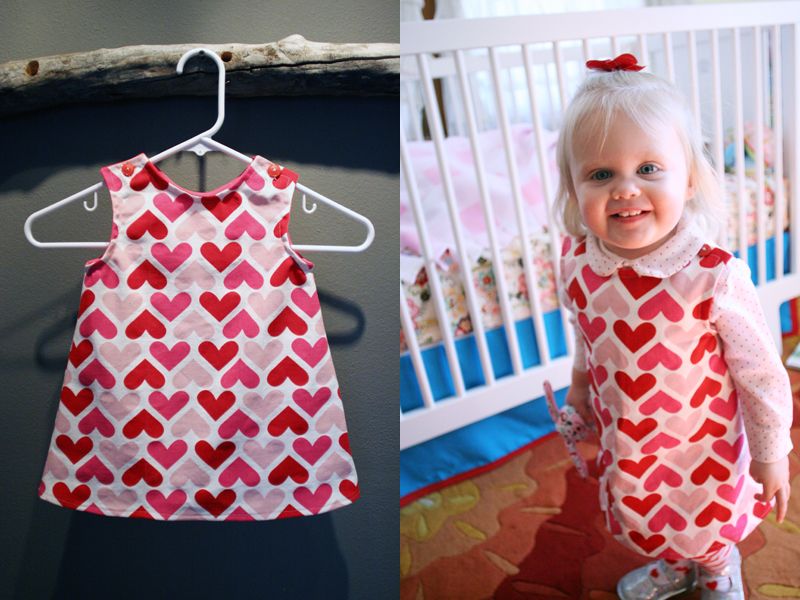 This picture kills me, because I didn't remember until seeing this pic, that I had made ingrid a bow out of the heart fabric to match her dress.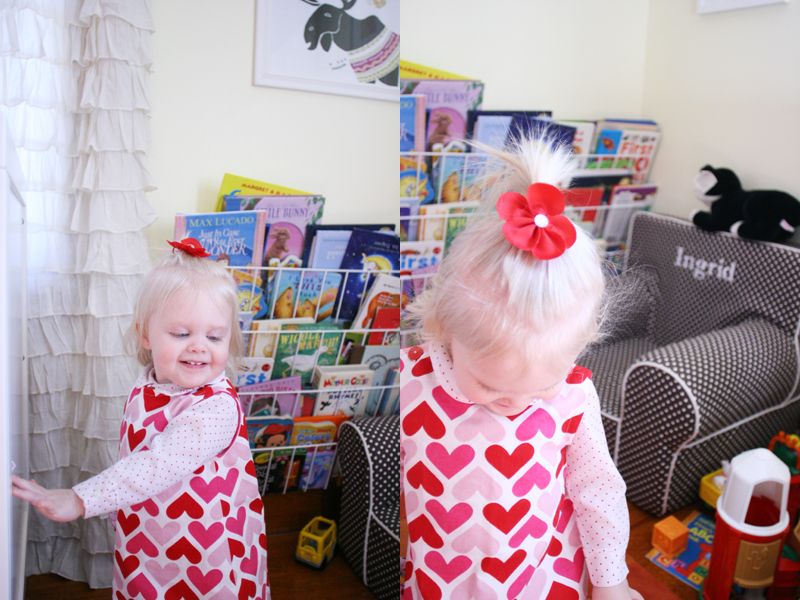 Liv's dress was the easiest because I had made the onesie before she was born! She got too big too fast and never wore it. So I sewed on the skirt and cut the onesie so that it would fit her. She looked so presh in it. I couldn't get a good photo because she was too sleepy after church. And we were too rushed before church to get any pics.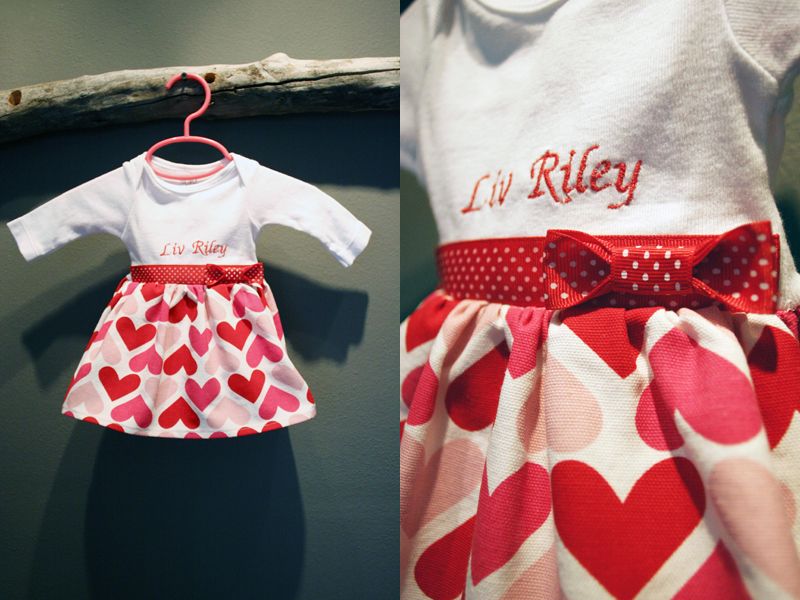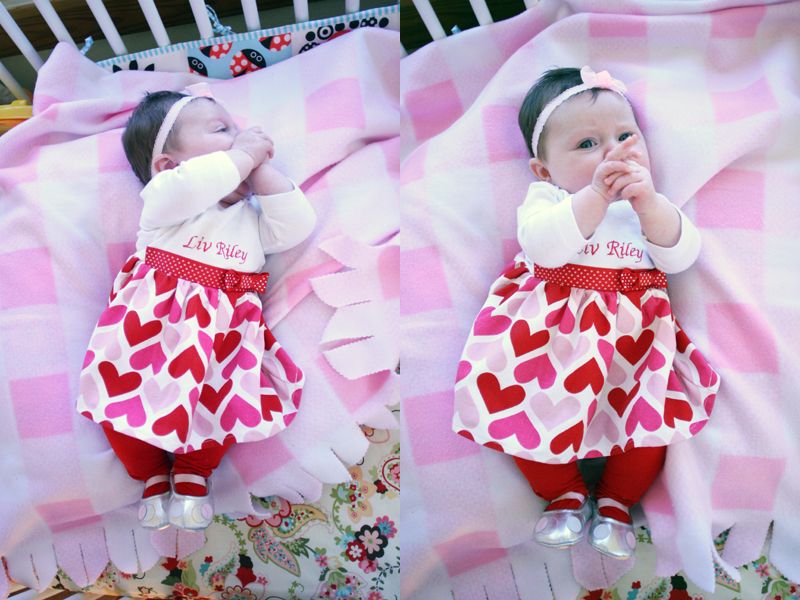 I love Valentine's day! But now my mind is on the next big holiday---Easter! I hope I have time to make a couple of cute things.