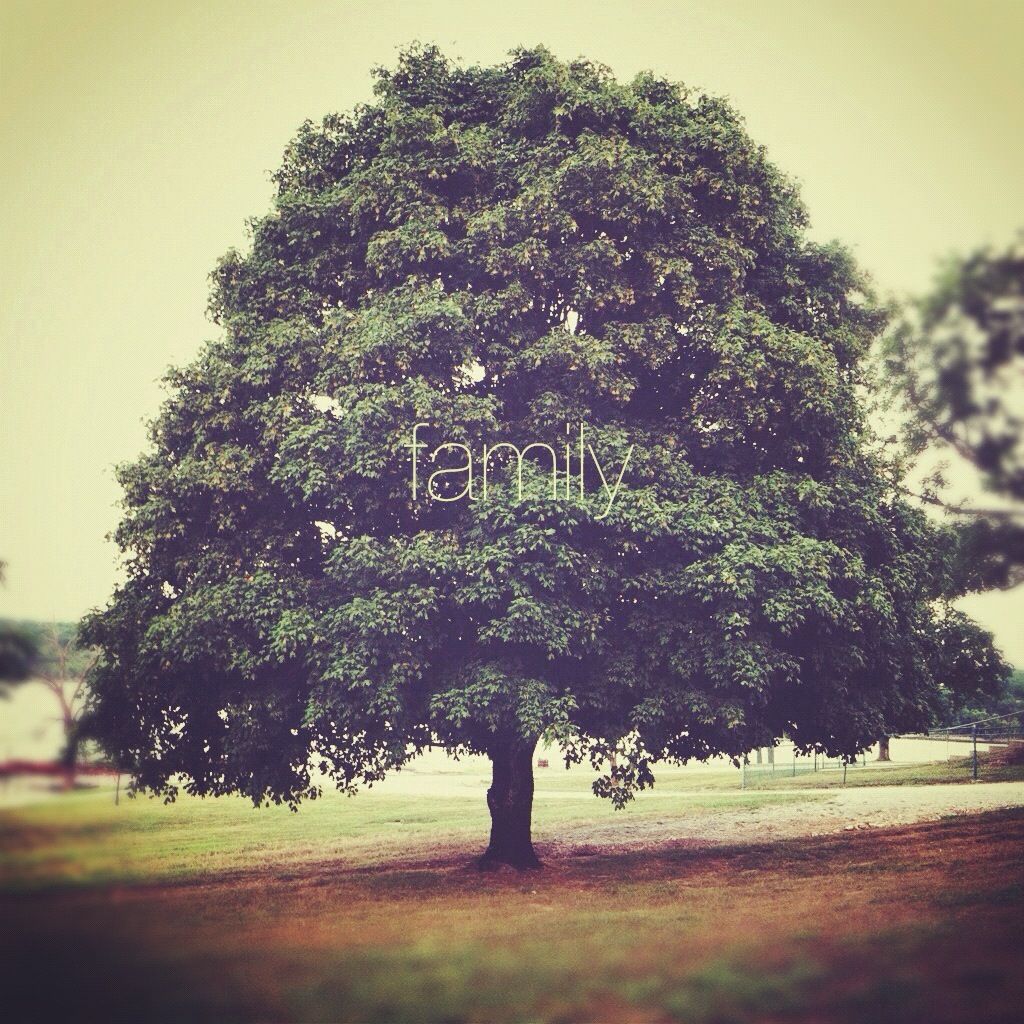 I've been looking forward to our family reunion for weeks now. The weather was supposed to be nice and warm and I had two beautiful girls to take this time! I had really been talking up the reunion and all the people who would be there to get Ingrid prepped for the big crowd. The night before we left, I had packed some stuff up and started a pile in the living room to load into the car. It was bedtime for Ingrid and she started running around franticly saying she could not go to sleep! This is is very strange for her (she loves going to bed) so I asked her what in the world was wrong?? She said "I can't go to bed, I have to go the junion. Everyone is going to the junion Mommy!" She thought we were going that night and I was making her go to bed and miss it! Too funny. Both girls slept on the drive up to Shell Knob and Ingrid awoke promptly on arrival. Mom and Dad were already there and had the water table all set up for the girls. But they decided they needed to go swimming in the pool IMMEDIATELY. Kaci and Shelby came over to help blow up our pool necessities.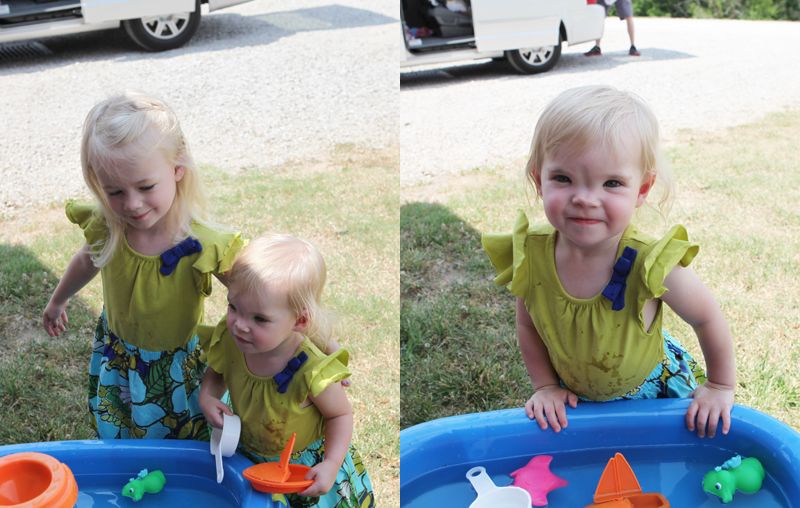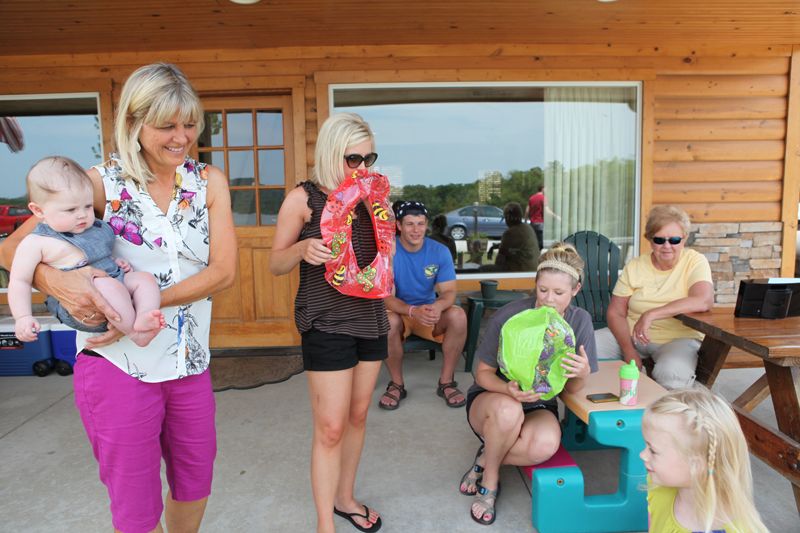 Heather and I painstakingly put on our suits. (We knew the water would be ice cold and we had both taken the time to actually fix our hair and didn't even get one snap of us all fixed up.) Liv slept a little longer after we arrived and I decided she should sit the first pool time out. Mom brought her down to the water so she didn't miss out. Poor girl had bad allergies the whole time with watery eyes, splotchy skin, and a runny nose. And of course she is still an absolute slobber monster with no teeth to show for it.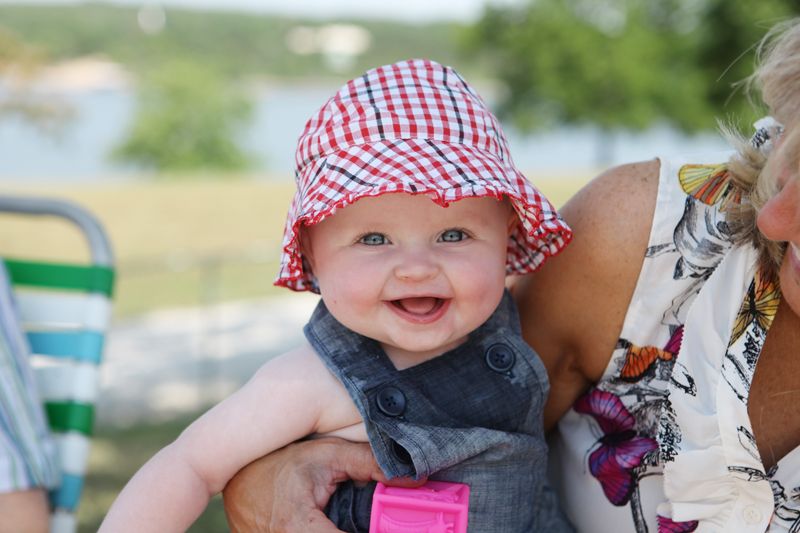 Ingrid was a little hesitant when we first got to the pool. She wasn't a fan of her life jacket at all, but I made her keep it on. She warmed up quickly and was a wild child. It was really hard to hold her in the water, and if you let go of her, she wasn't ever still enough to stay straight up. She would tip forward or backward in her life jacket.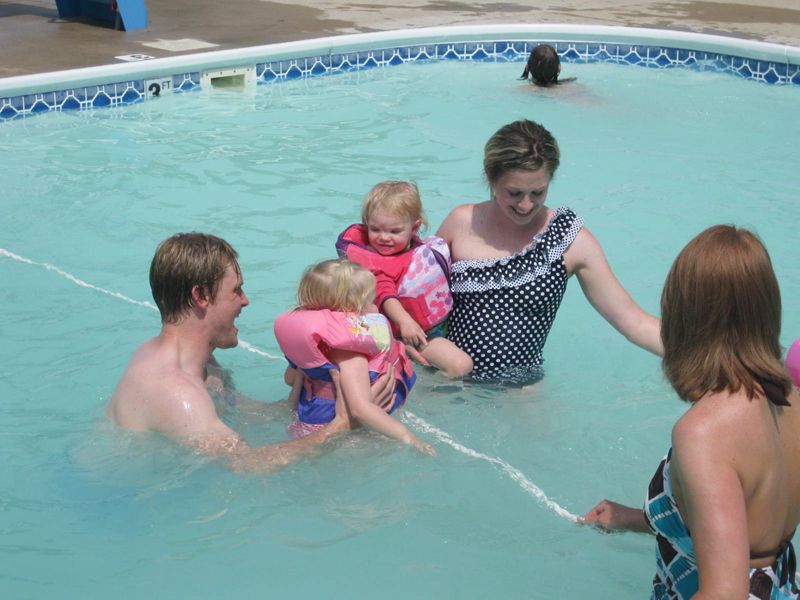 Her absolute favorite thing to do was to go down the slide. She loved that water slide with all her might. I would put her about half-way up and let go of her and she would shoot down like a rocket to Derek, who was ready to catch her. I have no pics of this, because it took two of us every time.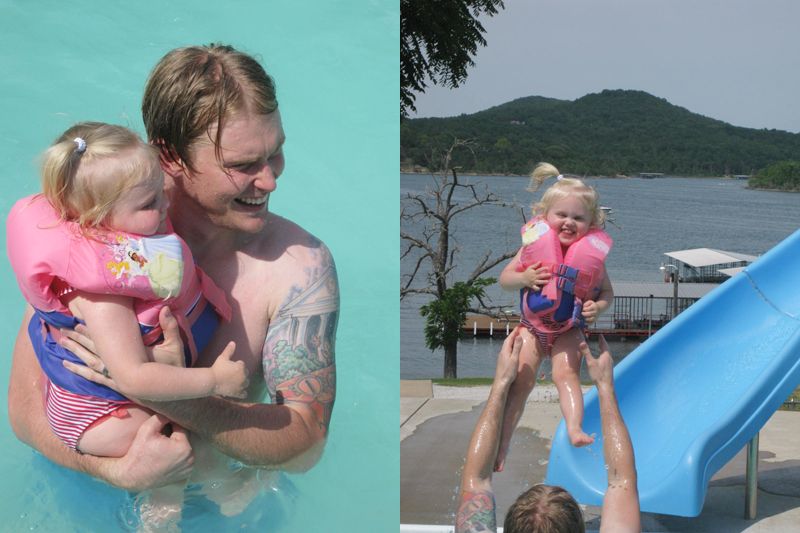 Ingrid Cate loved the slide so much, she wanted to go up the steps and slide from the top. I tried this with her one time...but it was too hard to go up those steep steps with her and she went down the slide way too fast for this Mama. So I told her she couldn't do that anymore. When we were walking down to the lake a little while later, she kindly declared: "Ingrid wants to go up steps of slide. I want to slide fast. Mommy says no. Ingrid won't get in water ANYMORE!" I ignored this little story while cracking up on the inside. (she did get back in the water, by the way...)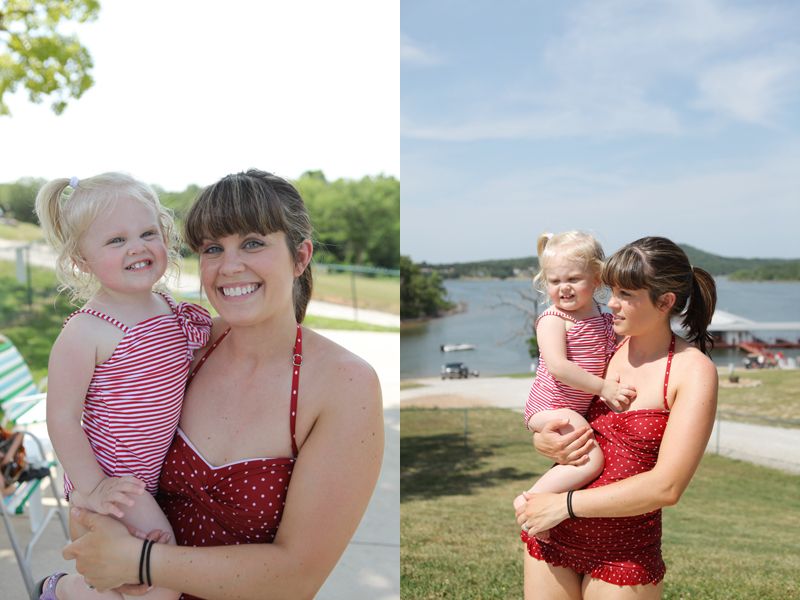 After our first round in the pool, we headed back to the cabin for some snacks. I love how the girls match their chairs here.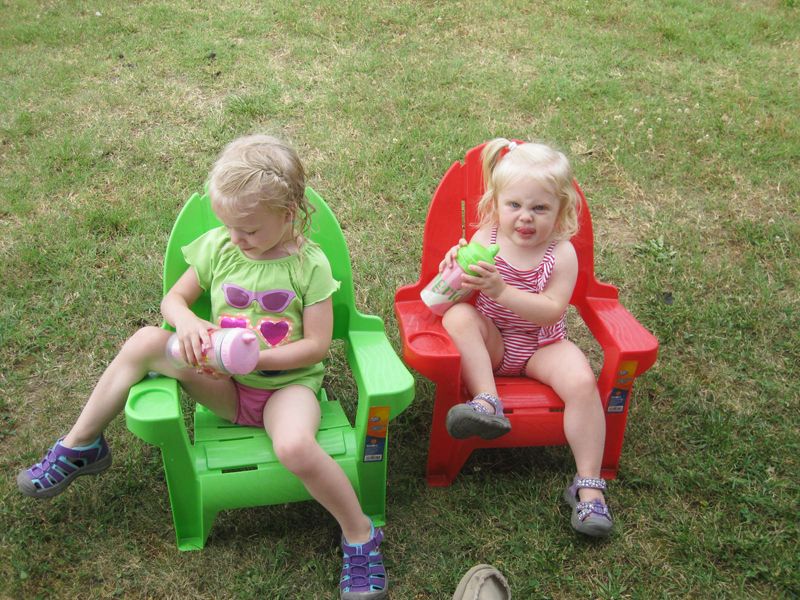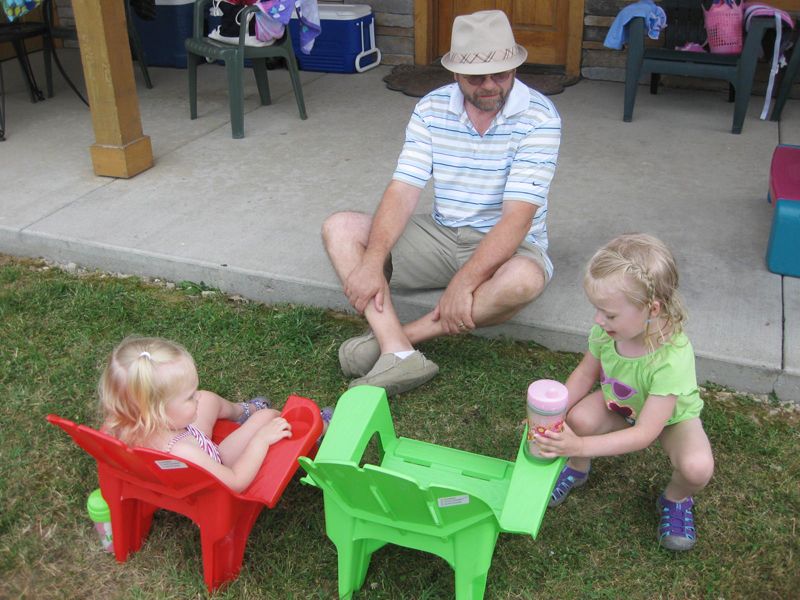 After more play time, we got dressed up for dinner. I was most worried about this part of the reunion because every family meets together for dinner. There are a ton of people in the meeting room, the acoustics are horrible, and it's SO loud. I didn't know how Ingrid would react...She's a bit like me and likes to stick to the people she knows. I don't even have pics of any other families except the Statlers. I know Derek talked to more people than me. Maybe Liv will have his outgoing personality! Ingrid did great the first night. You could tell it wasn't really her cup of tea, and she didn't eat a whole lot. But she made it through. She had a little nervous attack the second night, but she got over it really quickly! I was so proud of her. Liv took evening naps during dinner both nights. I stole one pic from Kac that has her in it!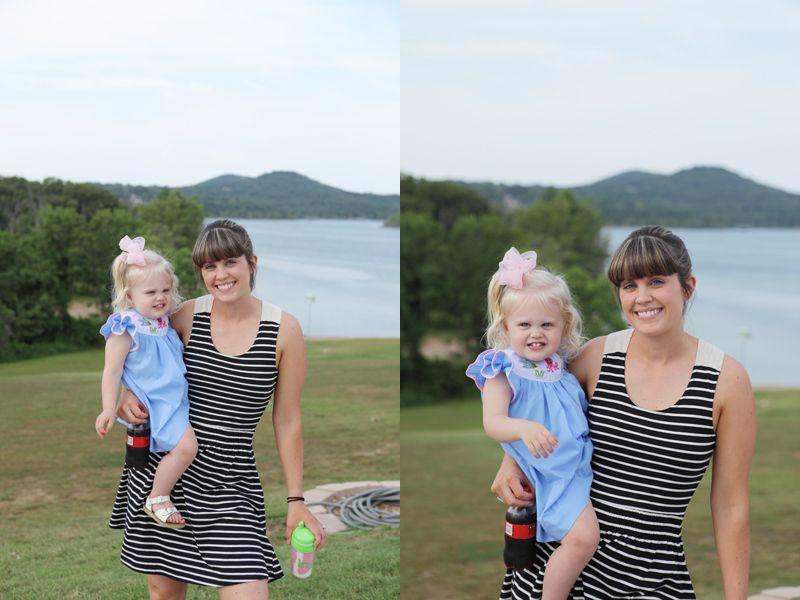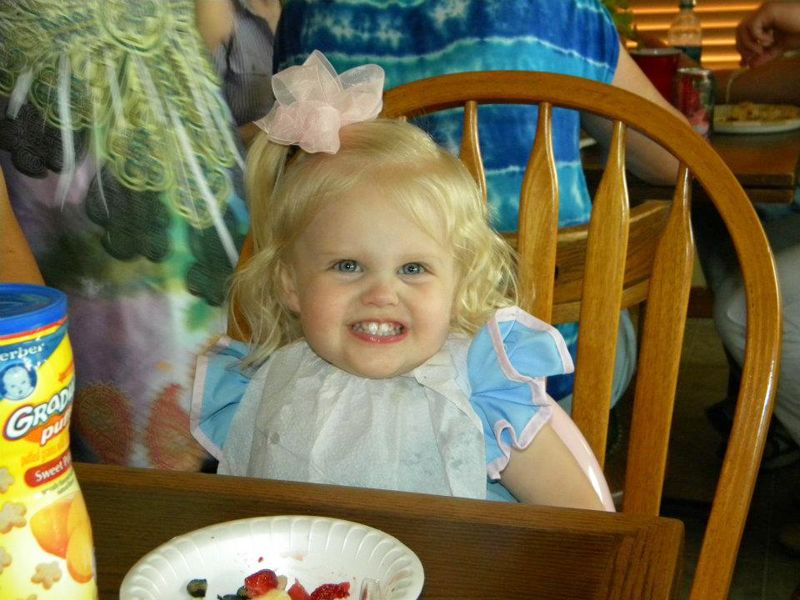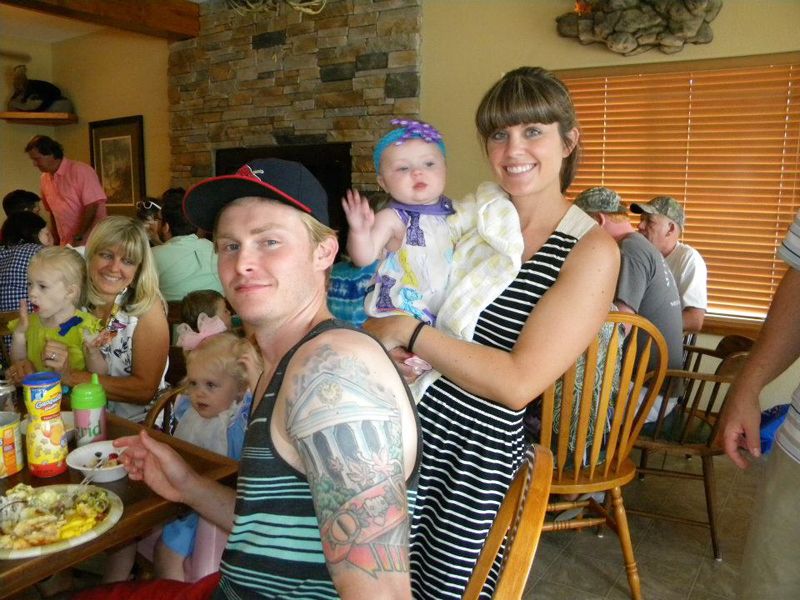 Bedtime was a little hairy, trying to get all four girls to sleep, but we did it! A HUGE thanks to mom and dad for helping so much. This just confirmed my theory that when we go on a big vacation, we will definitely need their help. Heather and I got to stay up late talking with the Statlers and sharing stories. We had so much fun. The guys were ready for their annual golf match early Sunday morning. They were gone for most of the day and had a great time, from what I heard.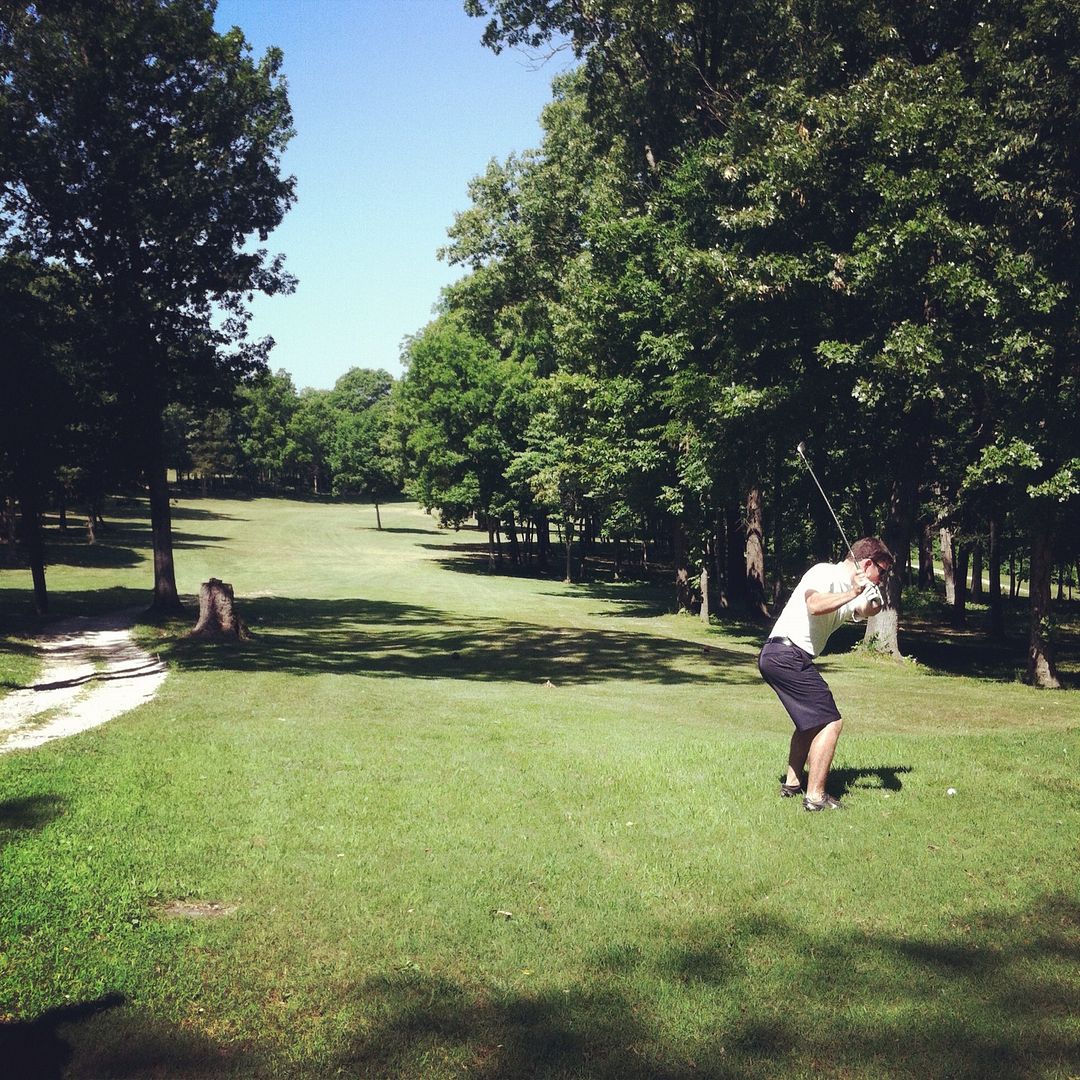 We stayed in our jammies for awhile (despite Liv's 5 AM wake up call) and played in the cabin while we munched on every kind of sweet breakfast treat you can imagine. Mom is never one for the "less is more" mentality!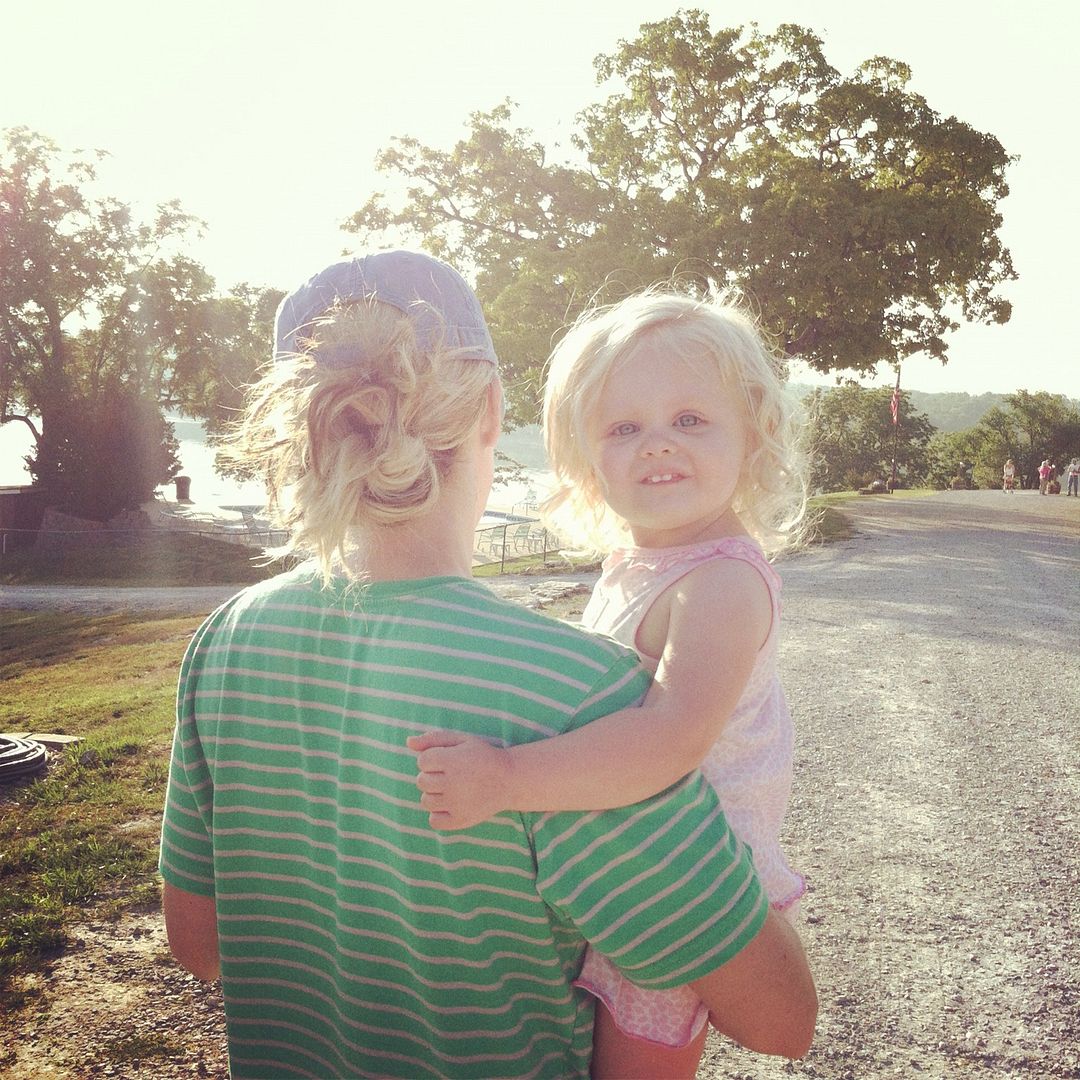 Ingrid and Elise got some extra play time together while Liv napped and Amelia swam with Heather. (This was nice for the two girls especially since Ingrid confided in mom the other day that Elise was her best friend. LOL) Ingrid opted out of this swim time since Derek was golfing and couldn't catch her at the end of the slide.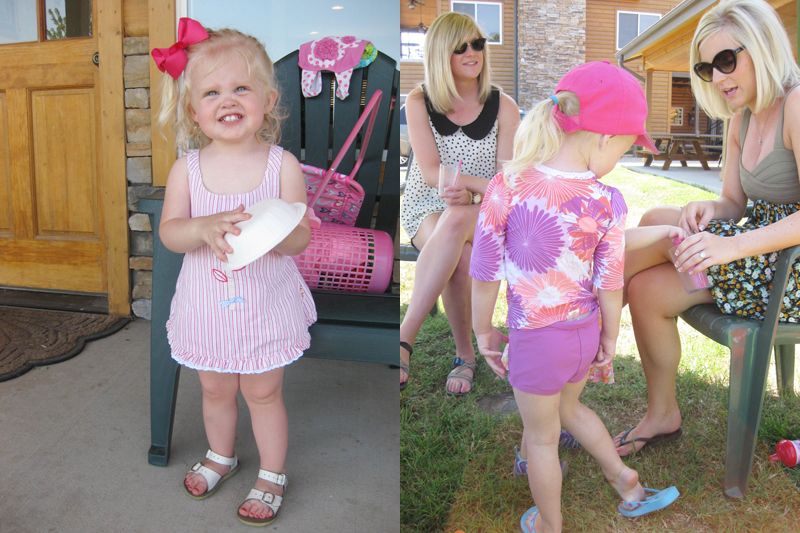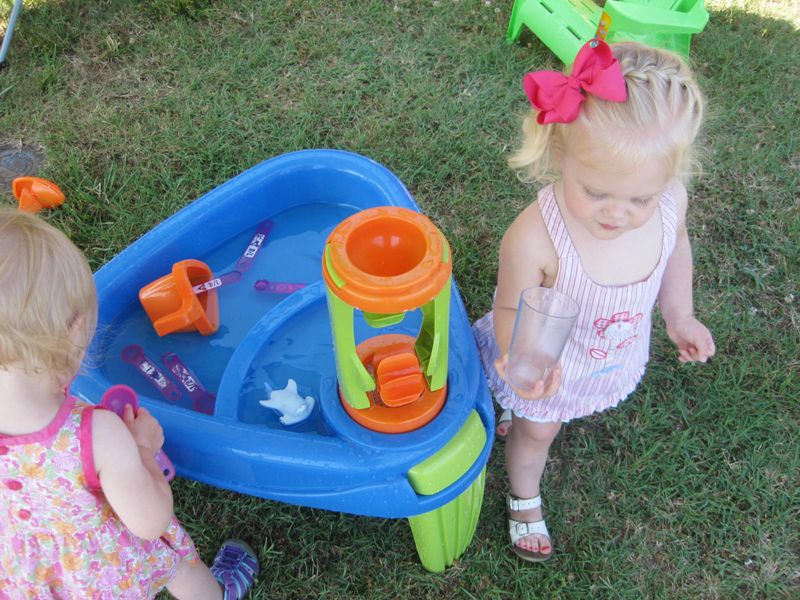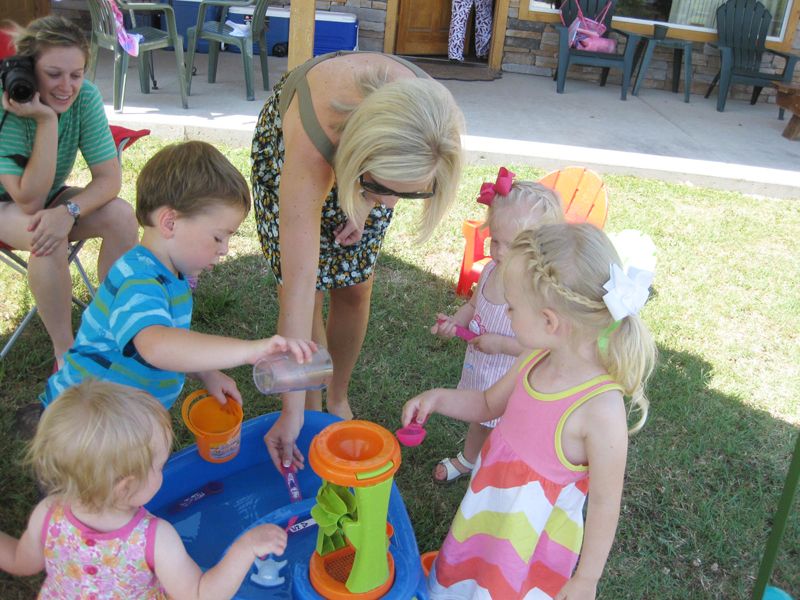 A lot of people hung out on the front porches of our cabins. The weather was so great. A little hot, but I would rather have it a little hot than cold and rainy.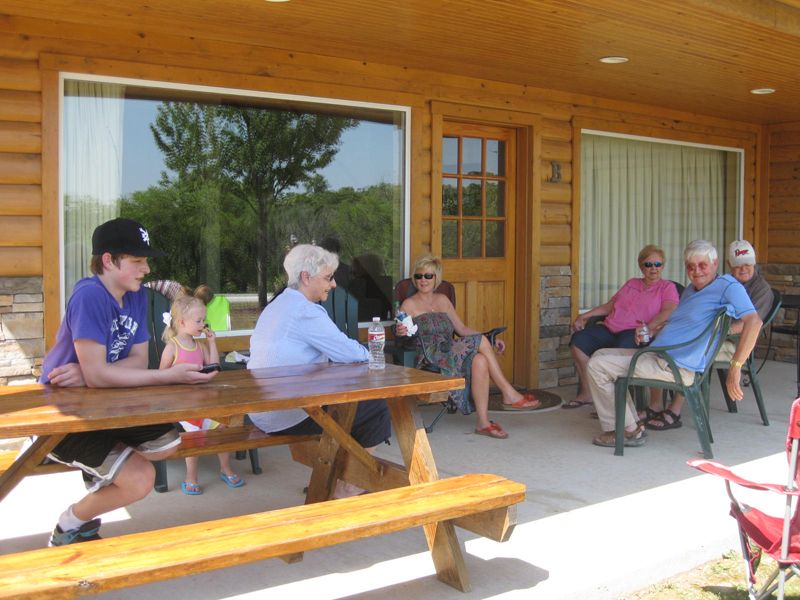 After naps, we headed down to the pool one more time. This time Liv joined us for her first pool adventure! The girls had matching watermelon suits that were so cute. I bought them last summer before Liv had even made her debut.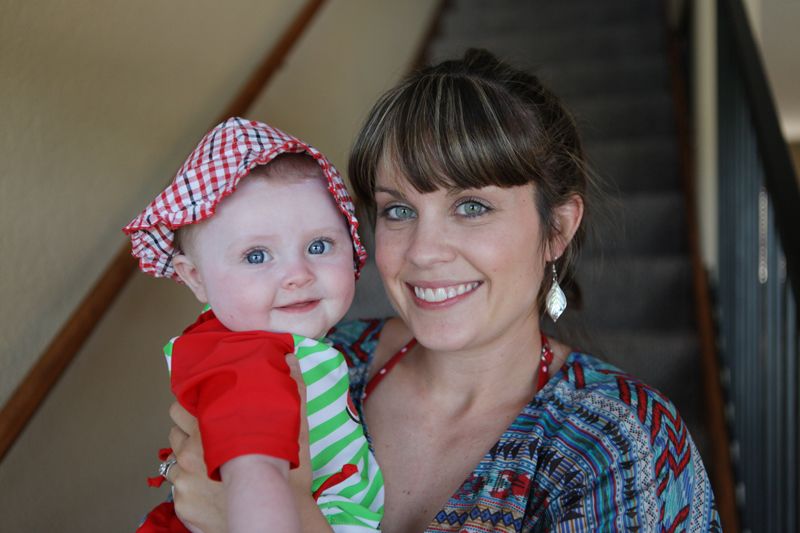 We had a little photo shoot with the girls when we realized they were all dressed in red, white and blue. Heather and I didn't coordinate, it just worked out! Poor Liv was asleep and missed it all even though she matched too.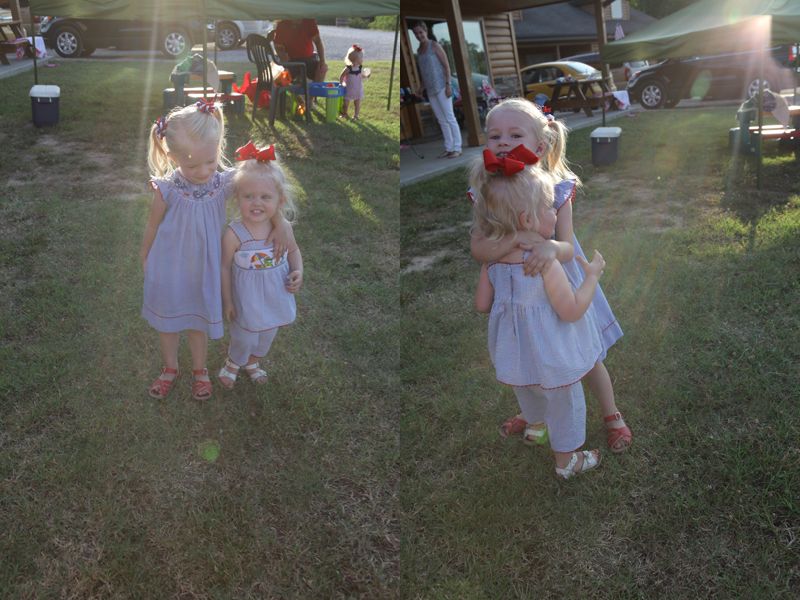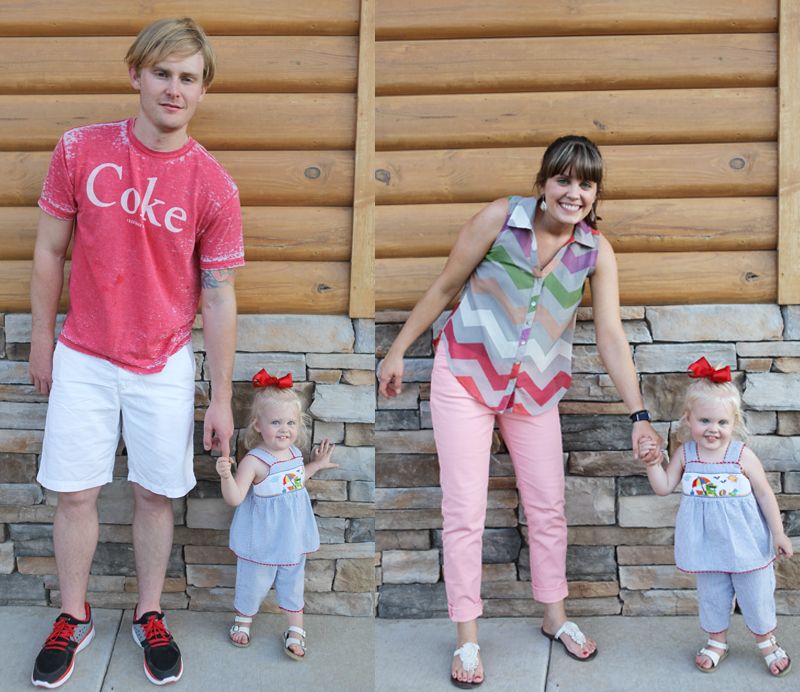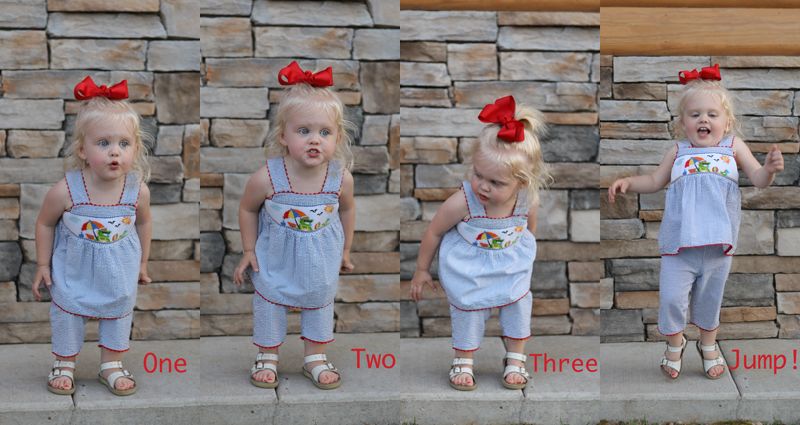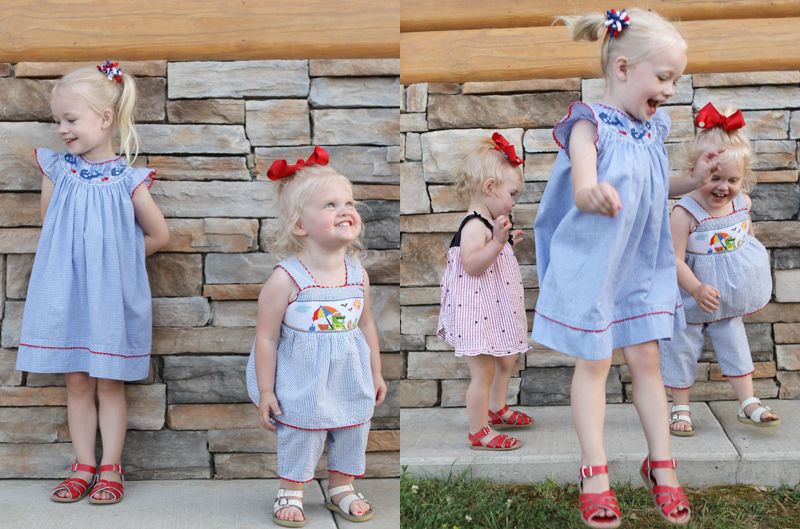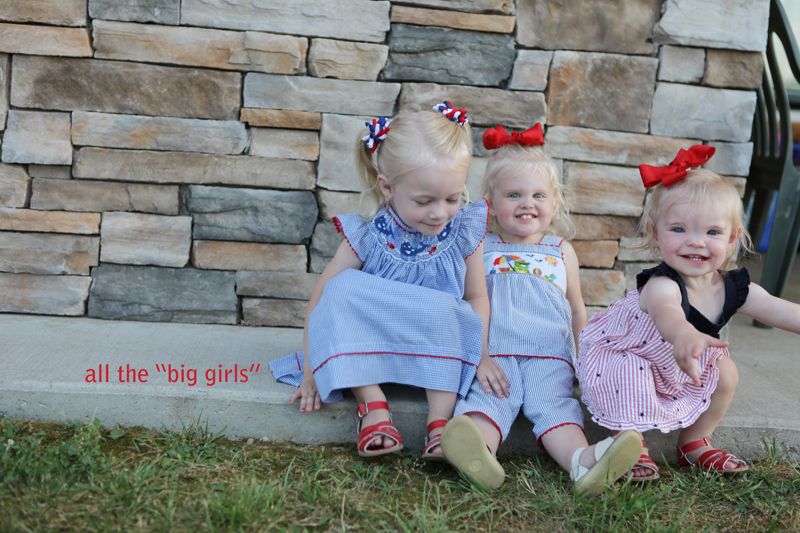 We ended the night with a special LaLaLoopsy movie that mom had brought for the girls. We didn't realize it was over an hour long and Amelia is the only one who lasted through the whole thing.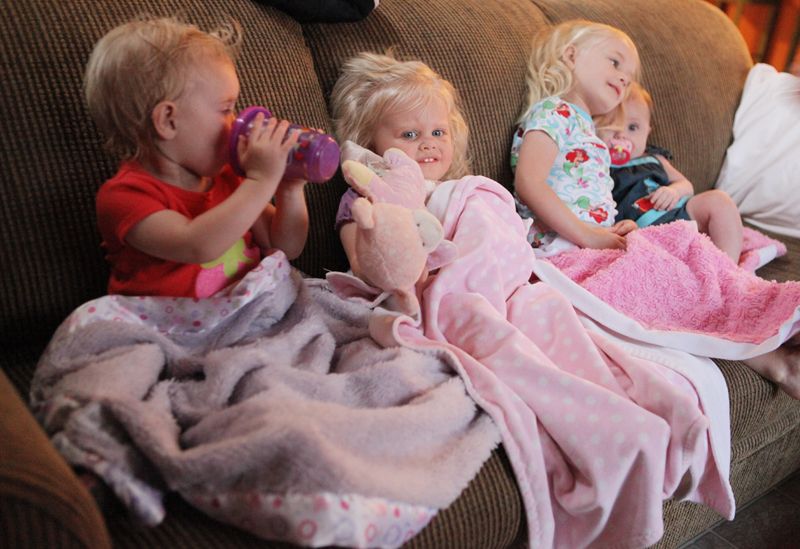 We had a fabulous time and I can't wait until next year! I know Ingrid is excited too. Monday evening she asked if she could get her shoes on. I asked her why and she said she was ready to go to the reunion! I love our family.