Ingrid wants to sing that song constantly right now. They sing it at storytime at the library and I thinks she's missed going the last few weeks. She's really been into singing songs and saying the nursery rhymes she's learned at the library. I might be brave enough to take she and Liv once or twice before my maternity leave is up. Maybe... I absolutely LOVED the sweater set I bought for Liv to wear home from the hospital. It is a handmade vintage sea green sweater and matching hat. Absolutely precious. I got it from
Edith's Closet
on Etsy way back in August. I just new this tiny set would be perfect for bringing home our little girl. And she is wearing the vintage lace booties that Heather got when Ingrid was born!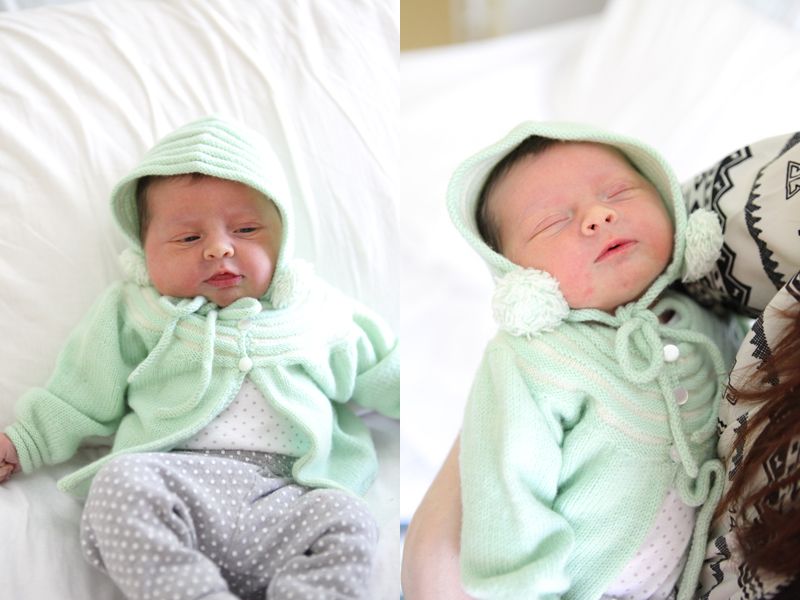 Right after we snapped this pic our pastor came by the hospital to pray over Liv. We are so thankful to have such a caring, Godly man in our lives!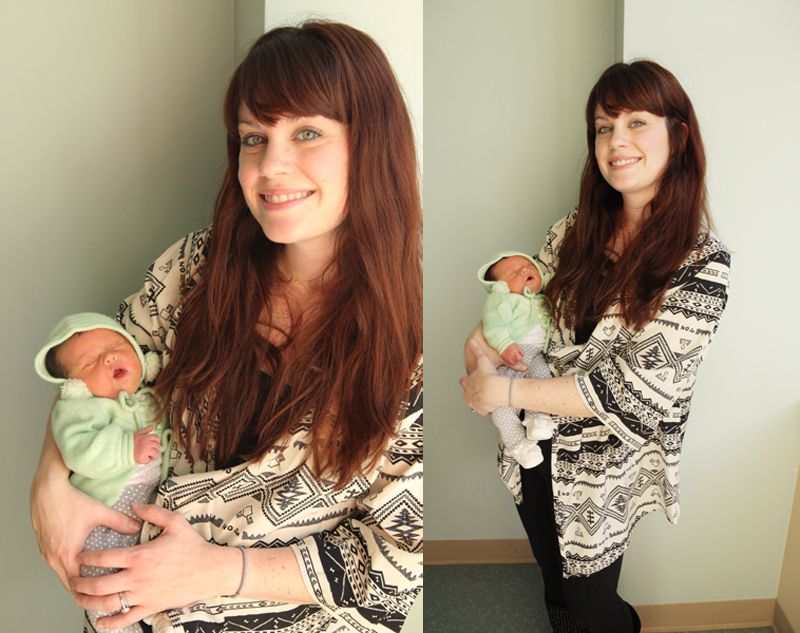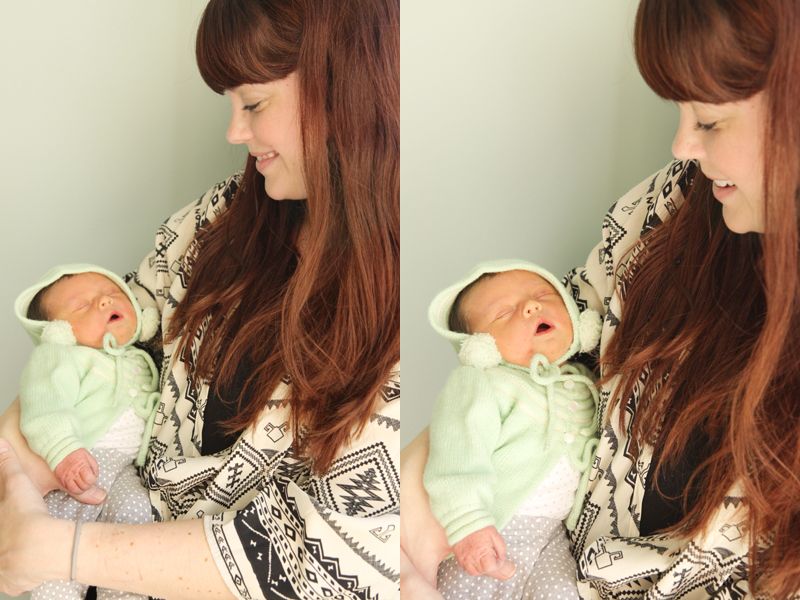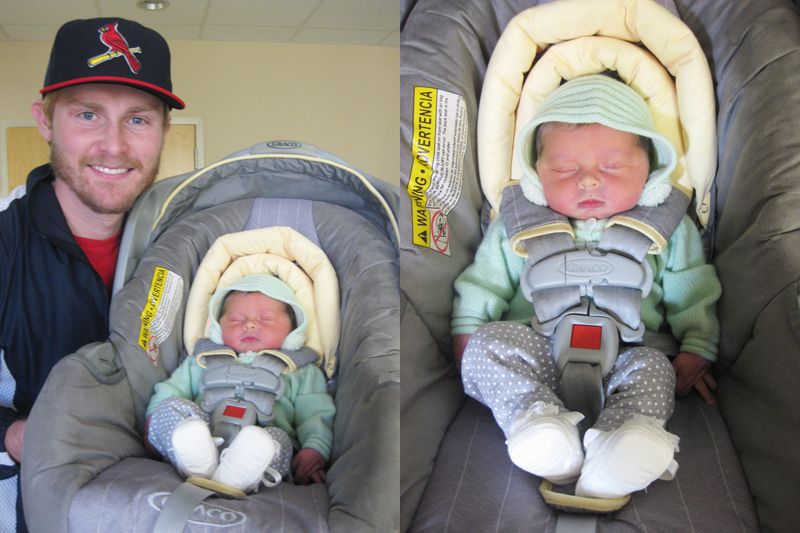 Ingrid was gone to storytime about the same time we were coming home. We got settled in at the house and then mom brought Ingrid home to see Liv in
her
house for the first time! I was more than a little nervous...Ingrid didn't know what to do at first.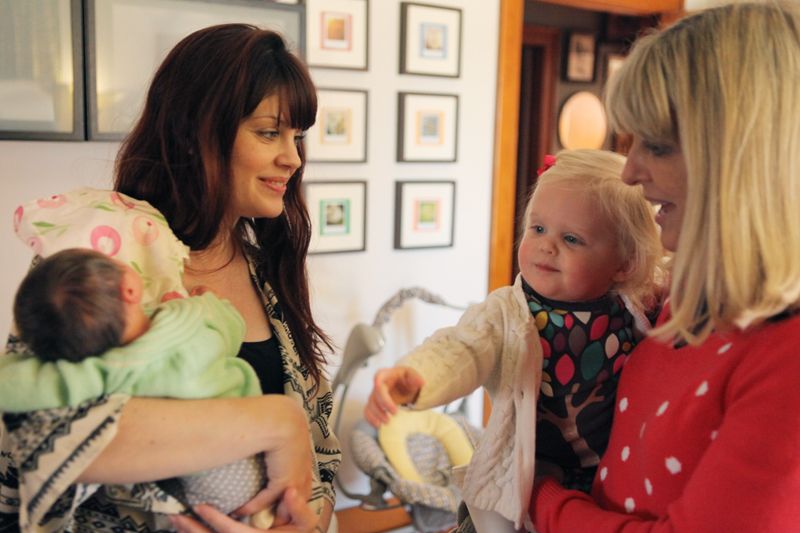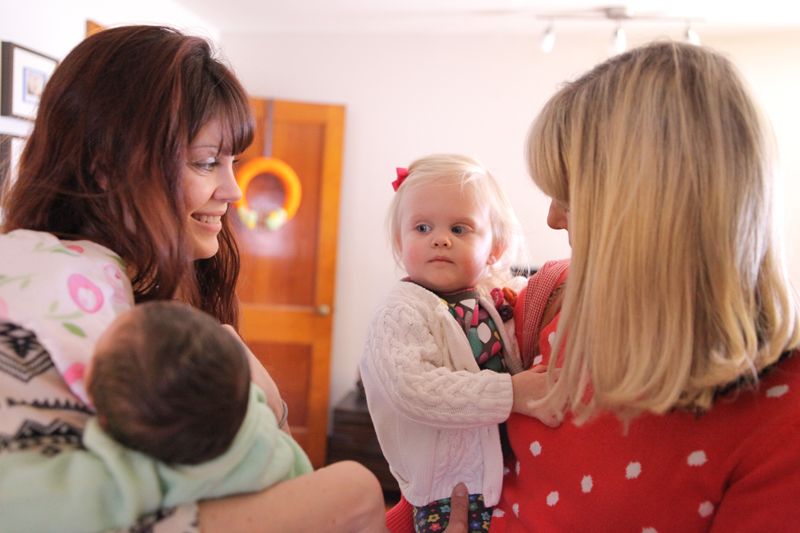 Then she got interested in her hat and that helped a little.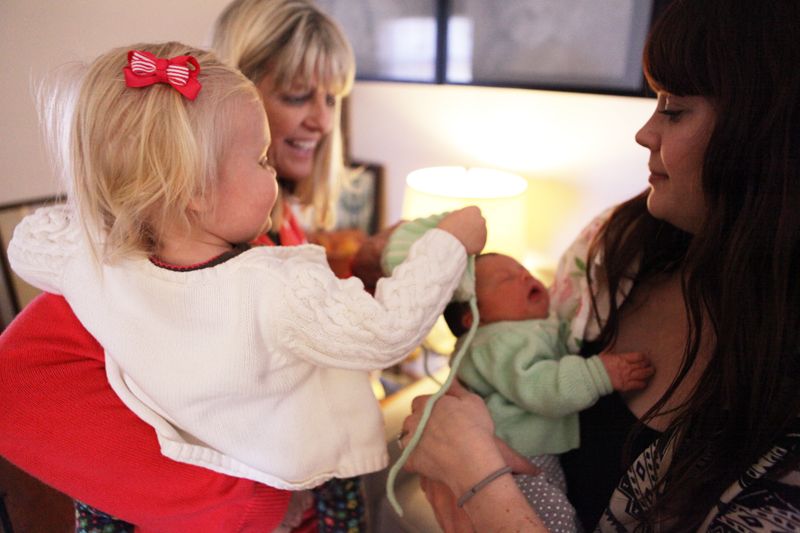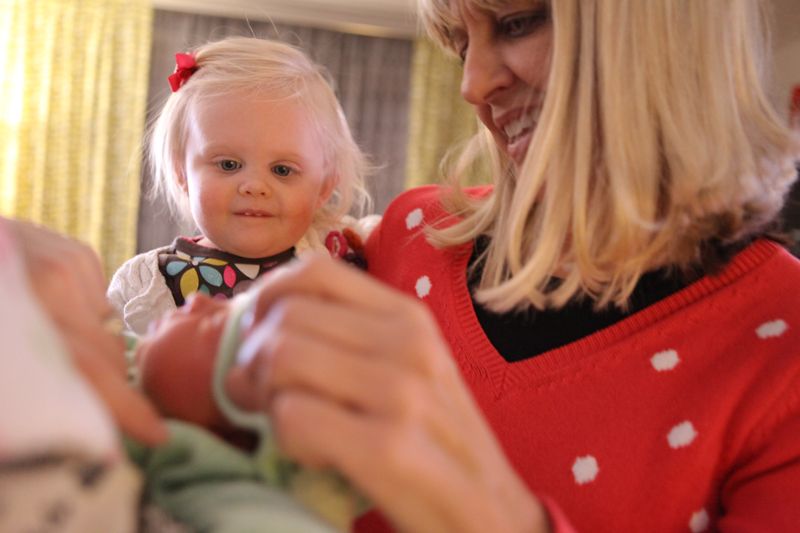 Eventually we talked her into giving Liv a little kiss.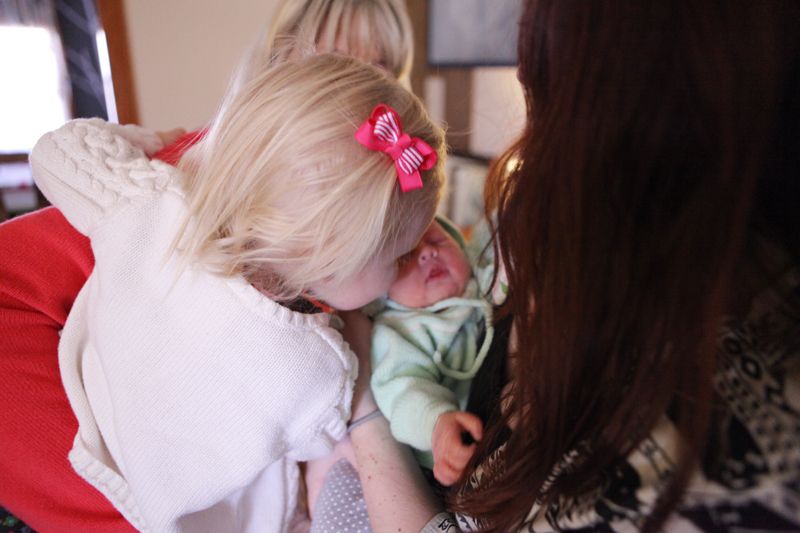 That first day home was a hard day. I was sooooo sore and could not move around that well at all. I wanted to act normal and try to play with Ingrid as much as possible. But she wanted nothing to do with me. She wouldn't come to me at all. I really felt my hormones trying to take over. It would have been so easy to burst into tears and crawl into bed. There was one point when I was sitting on her bedroom floor, when I was wishing she would just give me one little hug, that I felt tears coming into my eyes and sadness filling up my heart. So I quickly prayed the prayers I had been praying for months. For God to give me strength, understanding, and peace. In my heart I knew Ingrid would be okay. I knew she would have to adjust and it would be hard. But in the end she
will
be fine. Better than fine. She will have a "built-in" best friend like I do with my sister. I've said that prayer again today on my first day "all alone" with both girls. (Even though my dad came by after work and played with Ingrid and gave her lunch!!) There will be rough patches and tough moments but the good will all outweigh those. It's hard to remember that during the screaming and crying. But thankfully, God's voice is always louder. Here are some sweet moments Derek captured of the sisters that first day.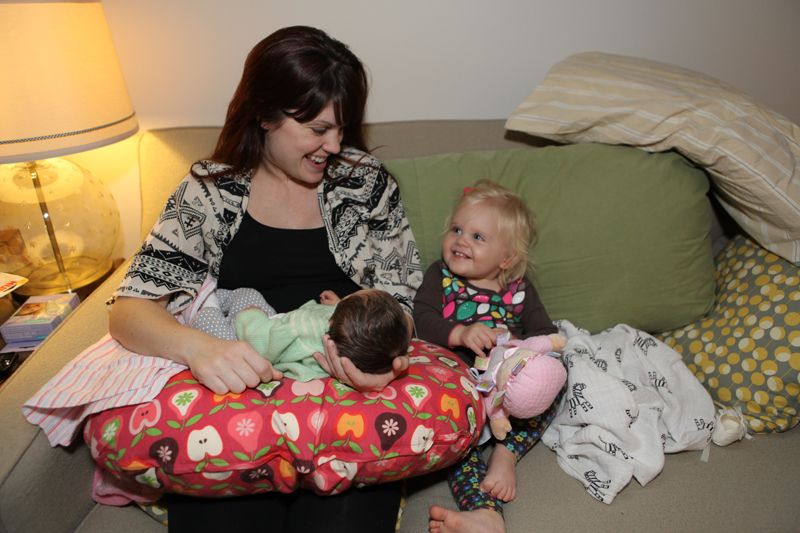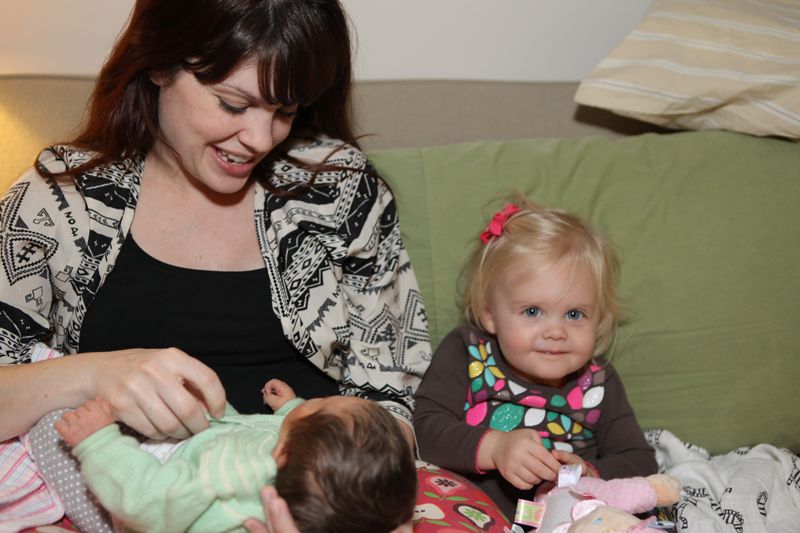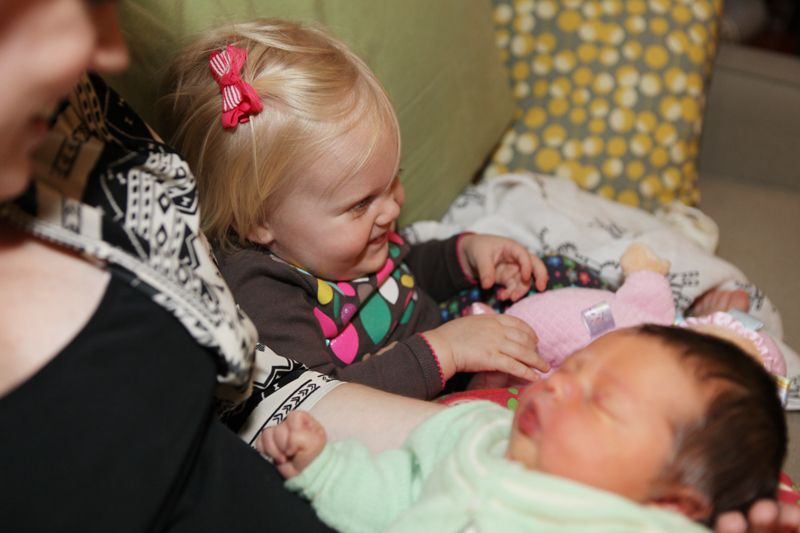 The next morning I dressed the girls in matching outfits! Something I had been dying to do the minute I found out I was having a girl. There's something about matching that I LOVE. This is the one and only time we coaxed Ingrid into holding Liv! haha.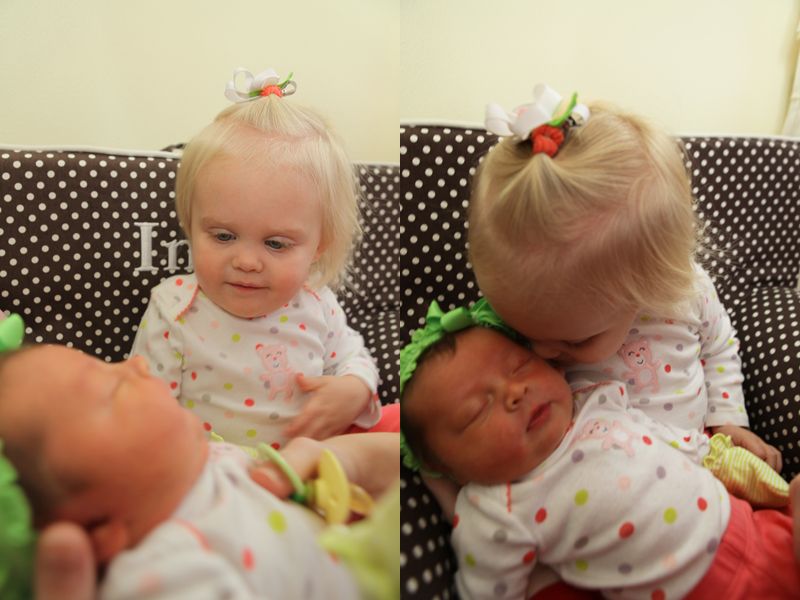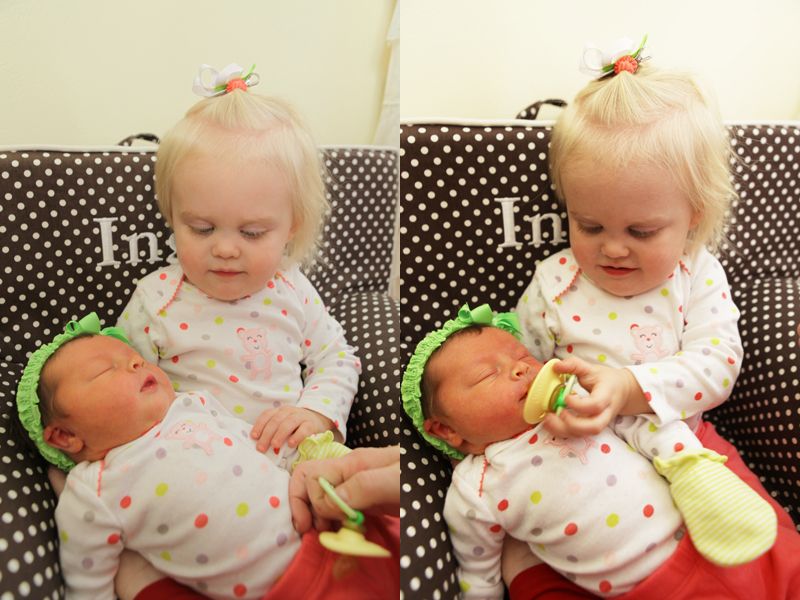 It lasted for maybe one minute. Then Ingrid was ready to read her books in peace.