I'm getting just a bit of cabin fever. This is the time of year where I normally jet up to Branson with mom two and three times a week. Run to Wal-Mart late at night. Grab things here and there getting prepared for Christmas. This year, I can count how many times I've been out of the house on one hand. AGGHHH. It's getting to me a little. But I'm thankful for the times I have gotten out. With Liv Riley of course. I am her one and only food source. (I haven't started pumping yet. I really, really despise pumping. I don't know what it is. I pumped three times right when I got home from the hospital and it made me so sad sitting back there pumping. I think it made me think about going back to school and spending my pull-out time pumping every day. Ugh. Shudder. I realllllly don't like pumping. Did I say that? Maybe the real reason is because it's the one thing you can't do and multi-task. You can't do anything other than sit there. You're hands aren't free--you can't do anything! It drives me crazy. But enough of that.) Other than our families homes--I've been just a couple places. I didn't get pictures when Liv and I went to bunco. But it was a blast! It was so nice to see my teacher friends.
Fed-Ex Christmas Party at Jeri and Jason's
Every year I love going to Jeri's house for the Christmas party because she has it fixed up like a showroom. Her tree is absolutely gorgeous. Not to mention all the other decorations everywhere!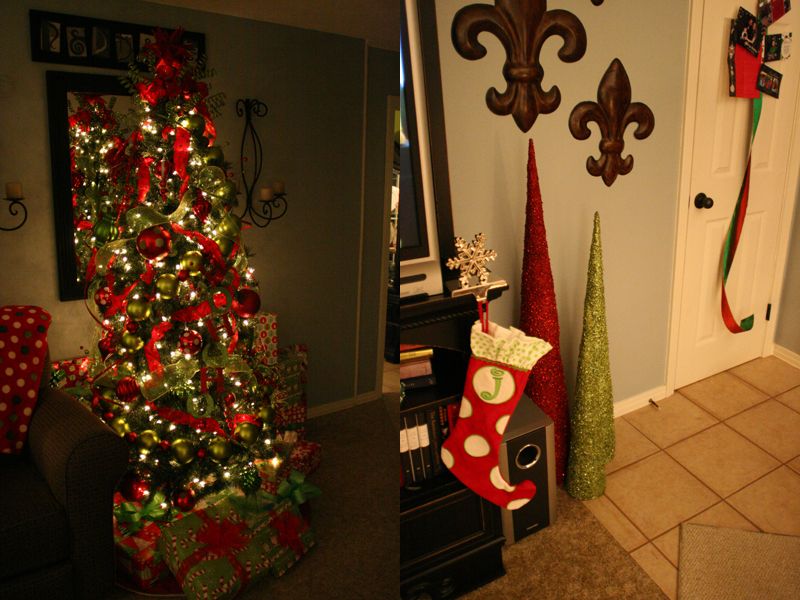 There's always a new project that she and Jason have just finished too. This year it was the expansion of their deck in the back. It is so nice. Made me long for a deck or patio of my own. One day I will have one! One day. :) There was tons of good food too. Baked spaghetti--delish. I need the recipe.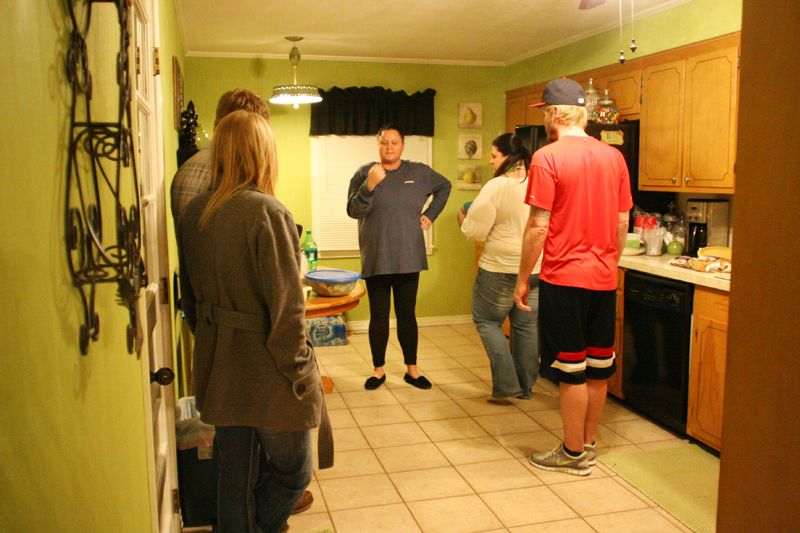 Liv fell asleep on the way there and stayed asleep almost the whole time. She woke up once to eat and then went right back to sleep. I'm IN LOVE with this silver crocheted vest from Heather. It is too sweet for words.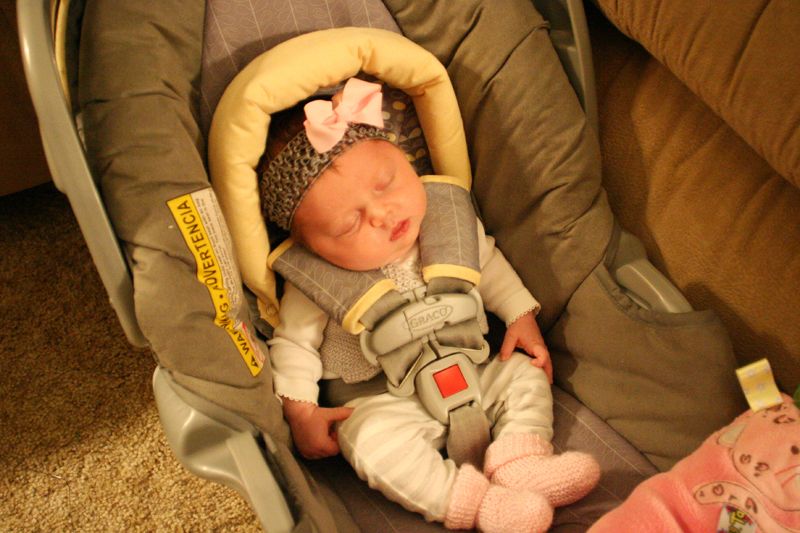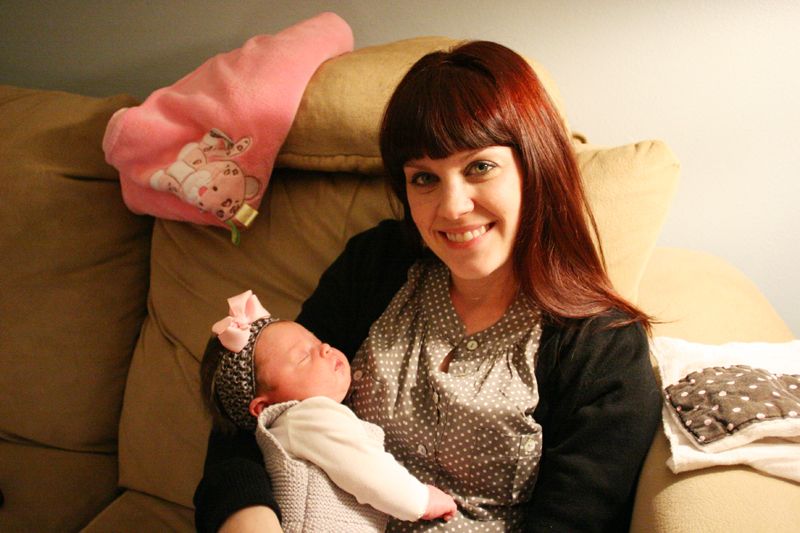 A Little Exercise at the Fashion Center
My fabulous school got us a double stroller and I've been dying to try it out. So mom accompanied me to our
mall
Fashion Center to try it out. I was a bit worried when the instruction manual said you had to dismantle both seats to fold it up, but it turned out to be easy as pie! They just pop off and pop back on. I didn't know how Ingrid would like the new stroller, because she is quite far away from whoever is pushing her. But she didn't mind a bit. She strolled along like a champ. We got quite a few rounds in walking at a brisk speed. Fast enough that I would call it exercise. My legs were itching--that counts, right?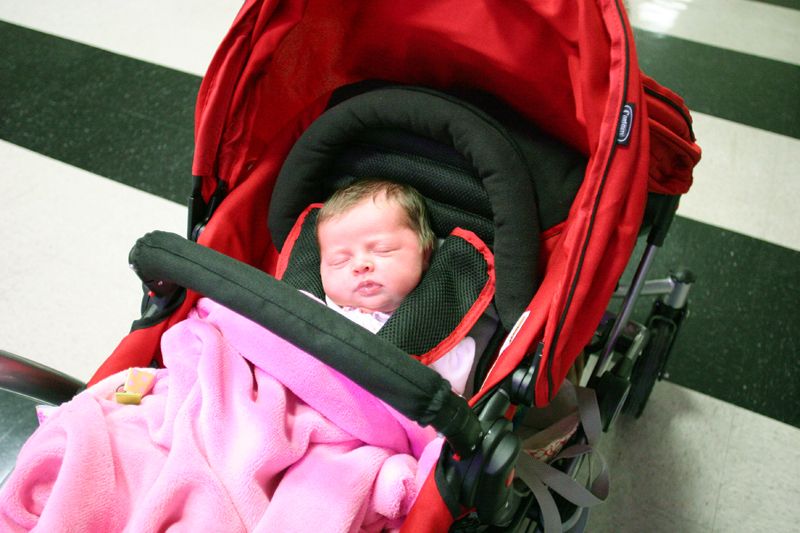 We even did a little shopping in Penney's. Liv had a crying spell and got out of the stroller. Gammy got her back to sleep in no time. Ingrid thought she might want out, but this little blue dog singing the ABCs coaxed her to stay in. She held him and sang her ABCs to everyone in the store!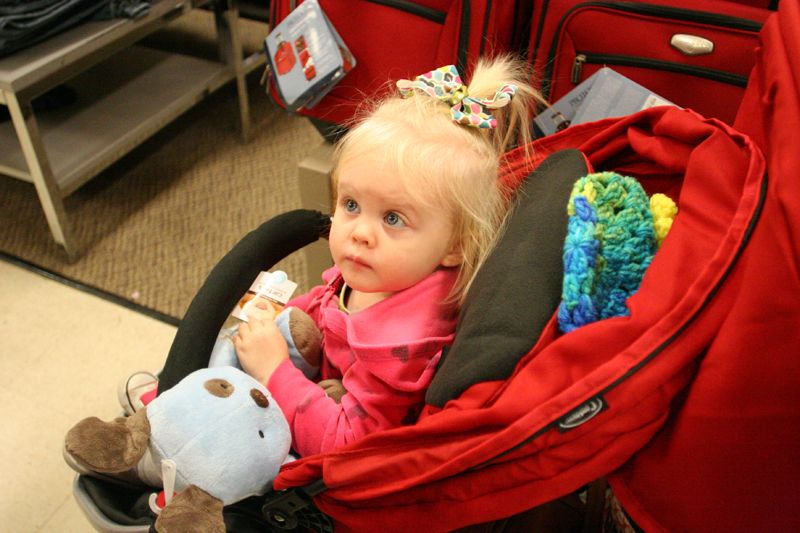 Liv's First Church Service
We went to our Christmas music program at church last night. I've missed going to church so much. It was great to be back. The music was festive and uplifting. Liv was all dressed up in her snowflake dress from Gam.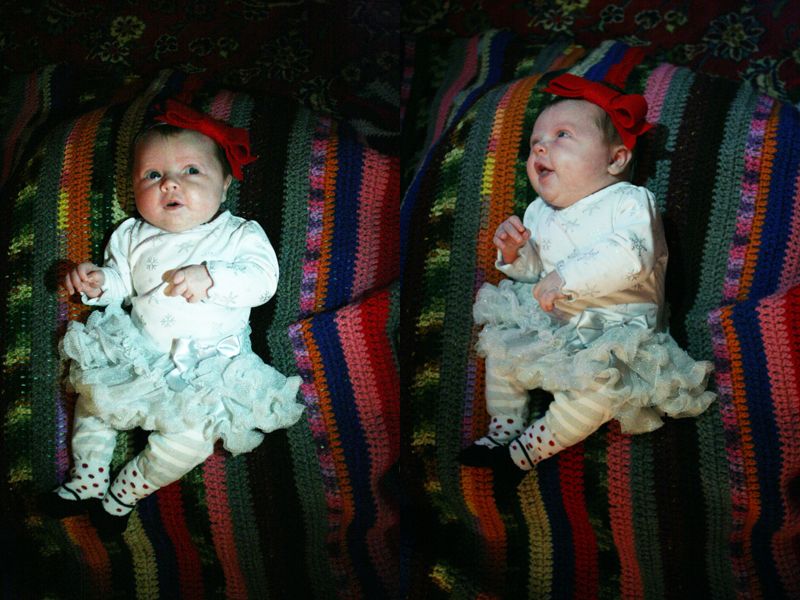 You can almost see her dimple in the second pic! After being all fancy, she was ready to get comfy cozy with her dad while they watched me wrap gifts!