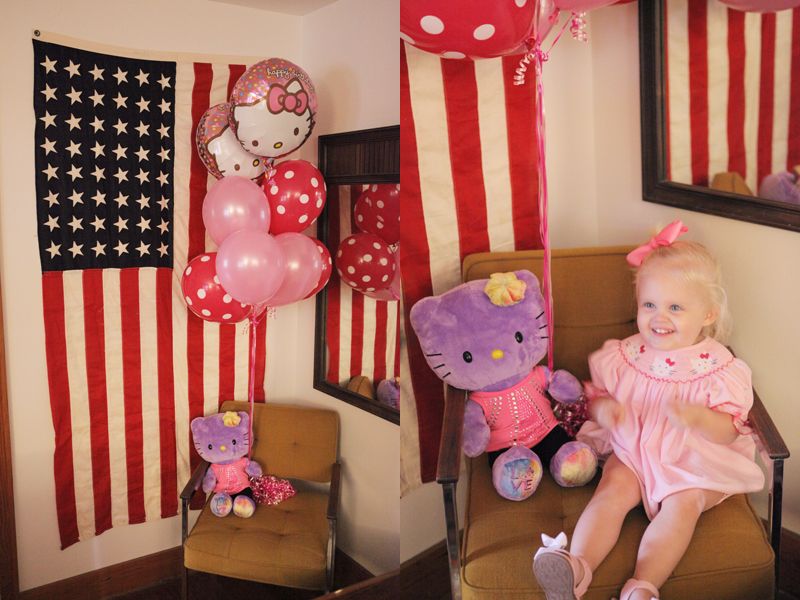 Ingrid Cate's second birthday was so different from her first birthday in many ways. First of all, she picked her party theme. About two months ago we were talking about her birthday and I just started listing off all the different "themes" she could have for her birthday. Even though I didn't really want a character party (because I really like making decorations and things and wasn't sure I could do it the way I wanted with a character) but I knew Ingrid would be much more into her party if it was centered around a character she knew and picked herself. I listed Dora, Elmo, Olivia, Hello Kitty, Mickey Mouse Clubhouse, and Princesses. She immediately picked Hello Kitty and there was no turning back! From that moment on, she knew she was having a Hello Kitty party for her second birthday and she was sticking to it! Another way this party was different was all the PINK! Last year was red, white and blue. I used to have such an aversion to pink. I never really liked the color. But after this party, I think I'm a new believer in pink. Everything was so cheery and happy with all the different shades of pink all over the place. I haven't even taken down this pink party garland because I just love it!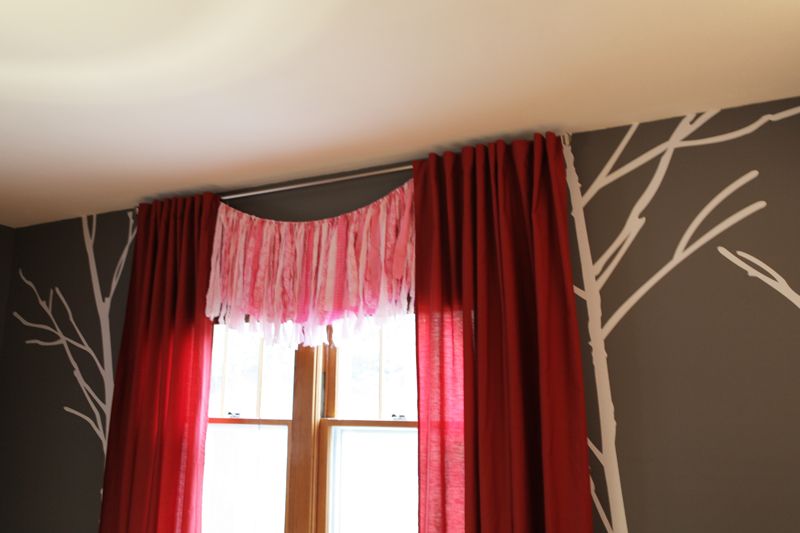 We had planned to have the party out on our new deck but all the days leading up to the party day were over 100 degrees. So I thought we would just do our food out on the deck and have the rest inside to cool off. On Saturday it was stifling. Humidity was at 98% and there wasn't a breeze in sight. I finally succumbed to the fact that the party needed to be indoors. (I really wanted to show off our new deck!) Am I ever glad I didn't start decorating outside. Around 4:00 a huge storm blew in, knocking down a massive limb in the front yard, raining so hard you couldn't see anything, and even knocking out the power for a while. I am so thankful I hadn't already set up all the decorations I had made for the deck. I had wrapped cans of food in Hello Kitty paper and ribbon and hot glued a safety pin to the top. I pinned all our plush Kitties to the top of the cans so they could be displayed without blowing over or falling down. I had intended to line the railing of the deck with these and connect them with pink and white streamers. It would have been so cute! But I guess they were just as cute placed around the house. Here's a pic of one of the kitties.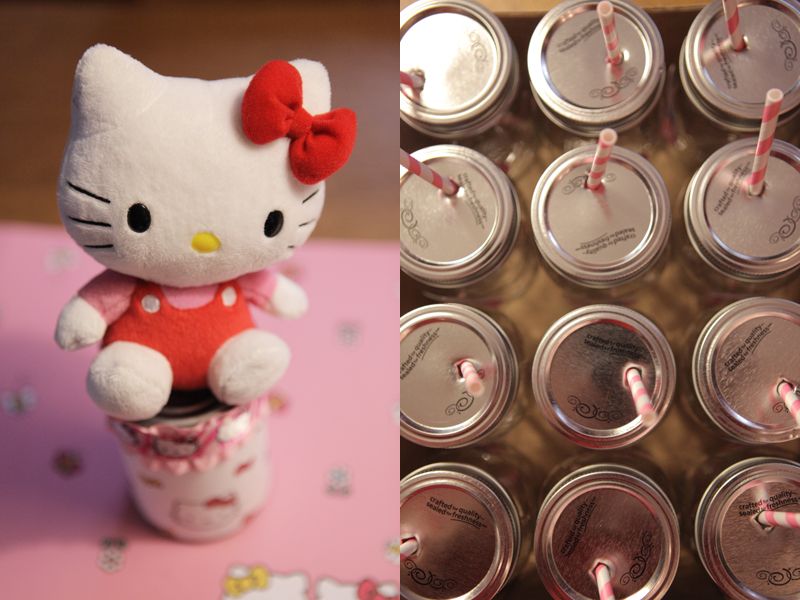 One thing that didn't change from last year's party to this year's is how much fun I had planning it! I absolutely love planning parties and making decorations. It was so fun staying up each night making something new for the party and then seeing Ingrid's reaction when she saw it the next morning! I designed a Hello Kitty wall for our dessert table. I used black and white Hello Kitty color sheets that were on a color roll from Michaels. I outlined the sheets with pink Hello Kitty duct tape to finish off the edges. I made a banner that read "Ingrid is Two" to hang in front of our Kitty wall.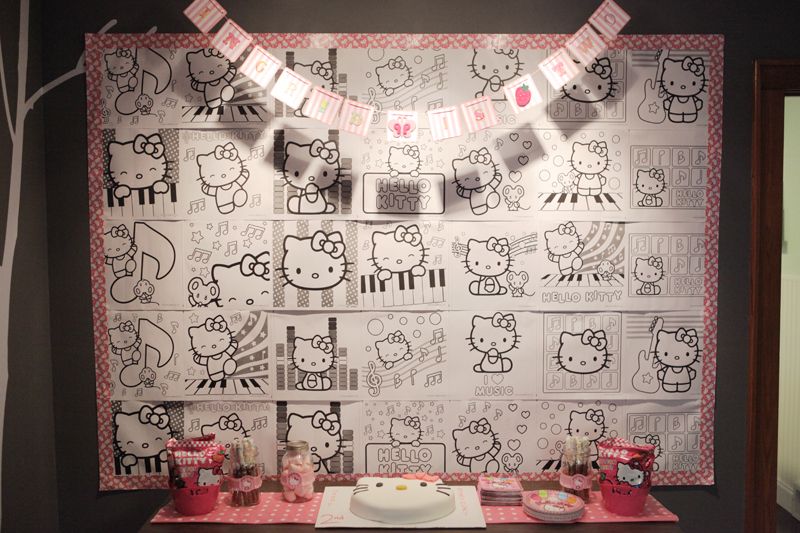 On the dessert table was the adorable Hello Kitty face cake that I sourced out to my friend Liz. She did a great job on it and it was delicious too!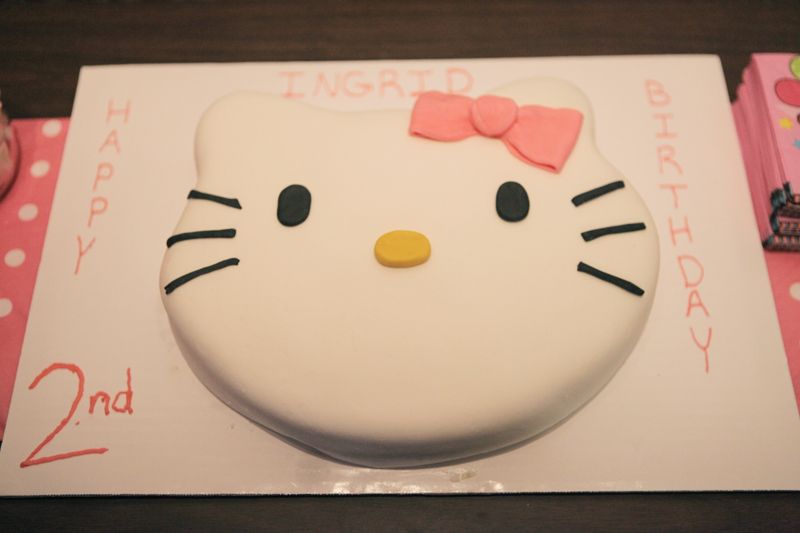 Also on the dessert table were bags of Hello Kitty cotton candy, white chocolate dipped pretzel rods with flower sprinkles, and strawberry marshmallows. When it was dessert time I brought out pink sprinkle edged ice cream sandwiches and Hello Kitty golden oreo pops.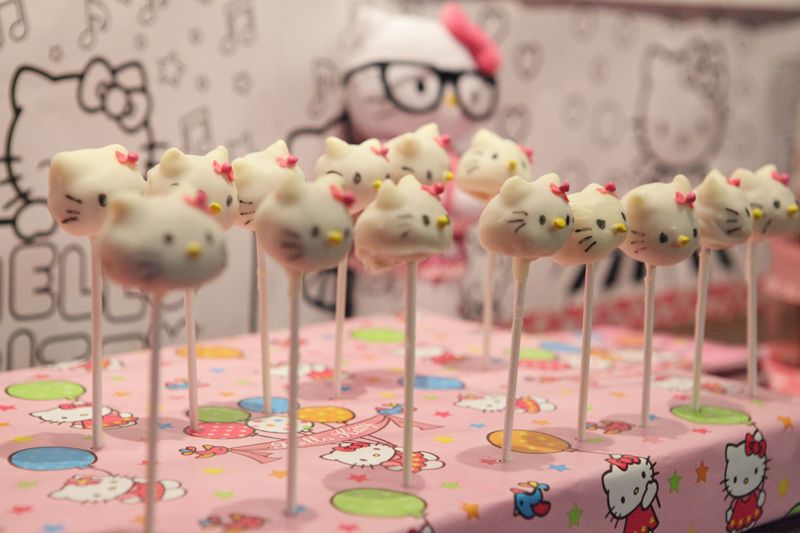 These little kitty pops took me way too long to make!! I know now what I did wrong and I think I could do a lot better next time. But I'm still really proud of how they turned out!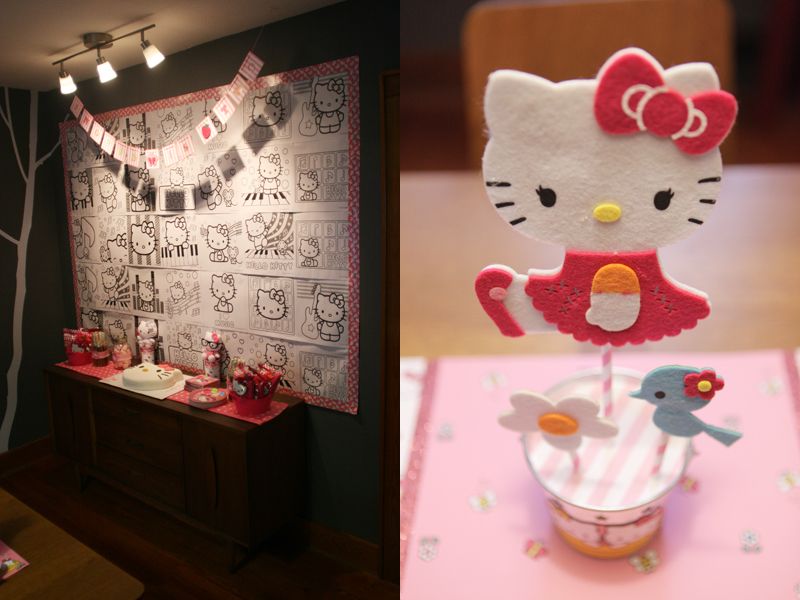 The theme of the party was Hello 2 and Derek did an amazing chalk art piece in our office.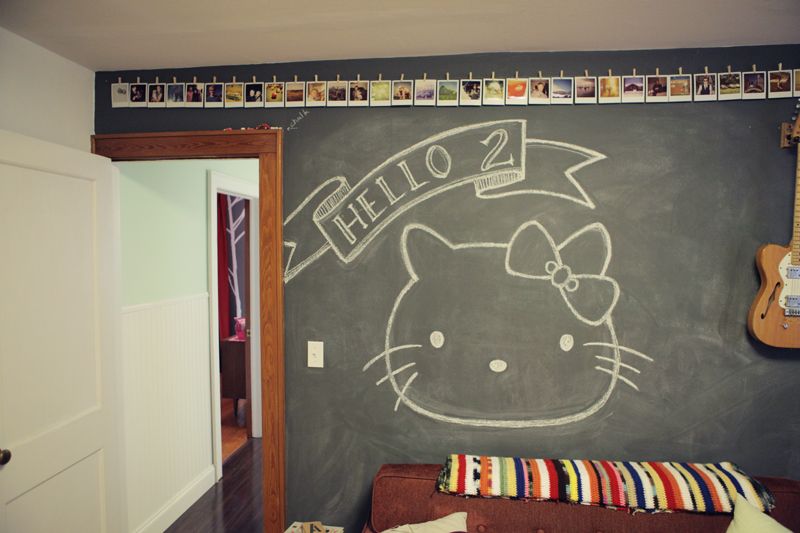 I cut out the letters Hello 2 and displayed them on our radio collection. Ingrid loved spelling this out every day!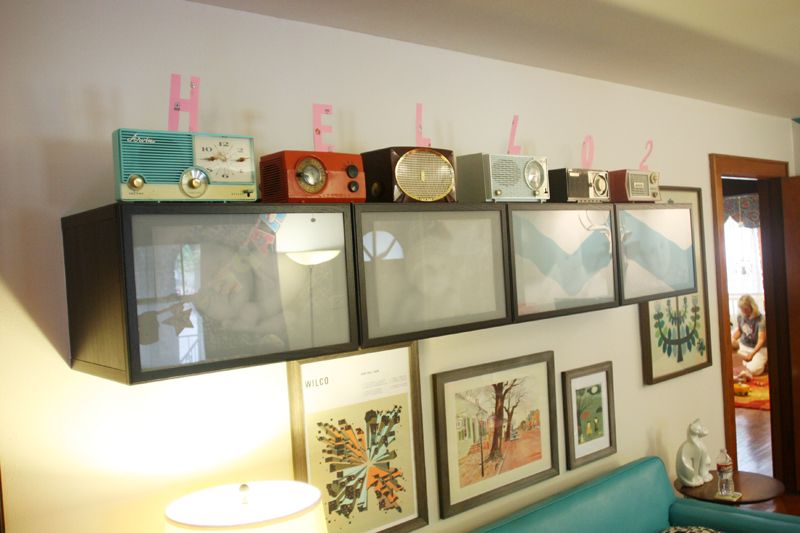 I also made two felt Hello Kitty pillows. They were super easy and Ingrid loves them so much.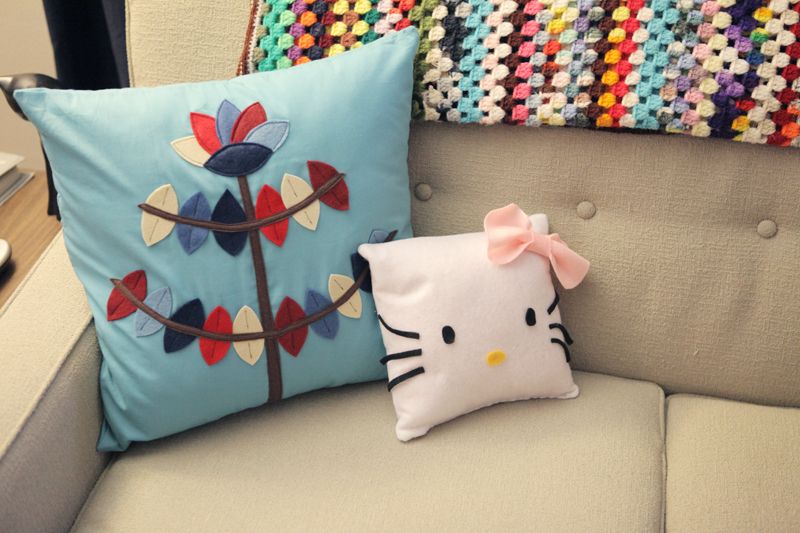 I had a pink yarn wreath on hand that Heather had made and I glued some felt pieces to it to make it more party ready! I found Liv a Hello Kitty onesie at Old Navy and sewed a pink gingham skirt to it so she would match Ingrid a little more and so it would feel more like a party outfit. Bless her little heart, she got so sleepy at the party. We had to change her into her jammies before we ever made our family picture!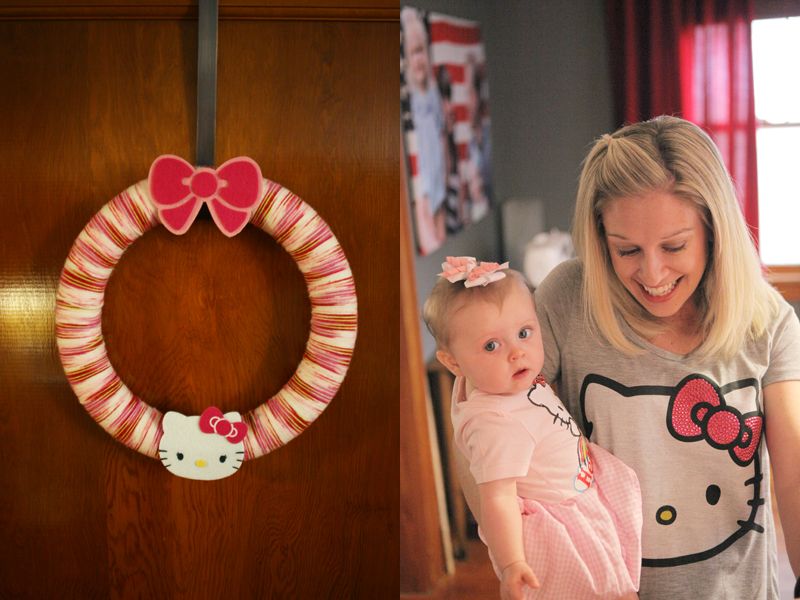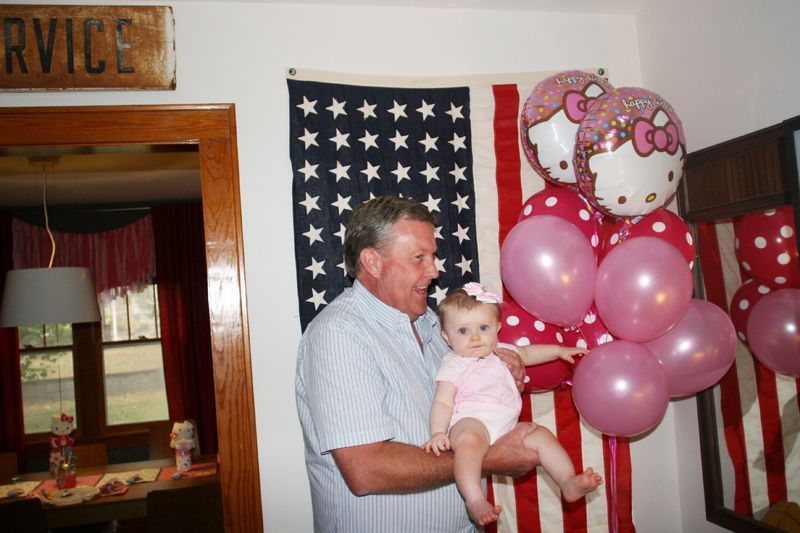 Ingrid was so happy to greet everyone who arrived for her party and play with Amelia and Elise a bit while she waited for the party to start!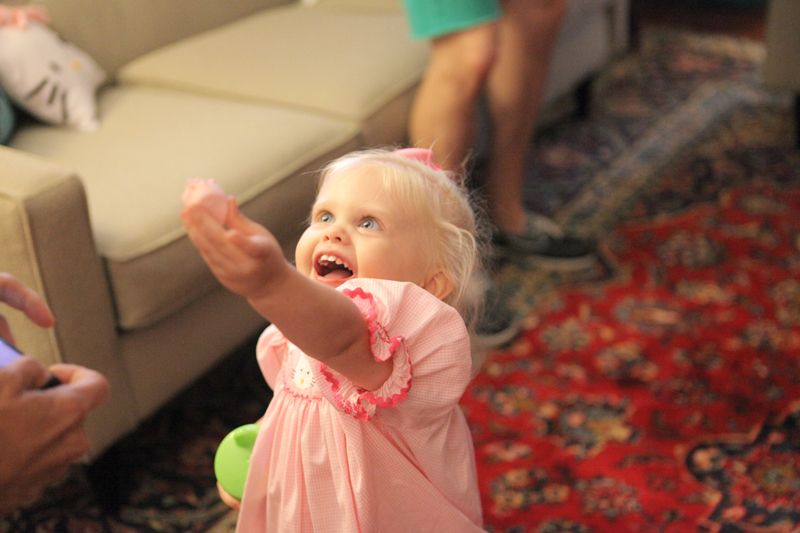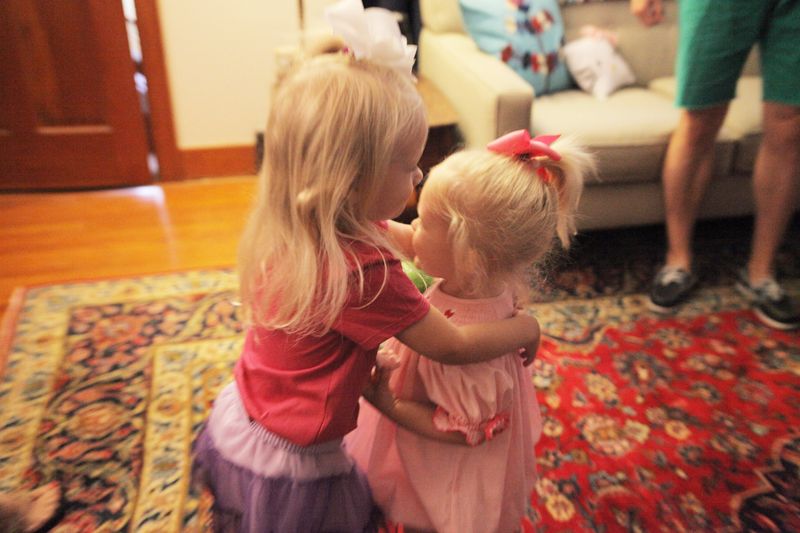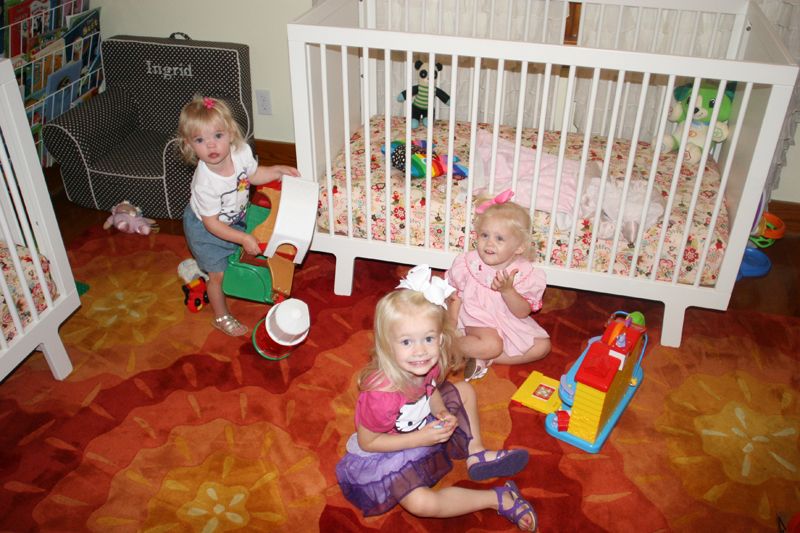 I am totally enamored with her smocked Hello Kitty bubble. I adore this outfit!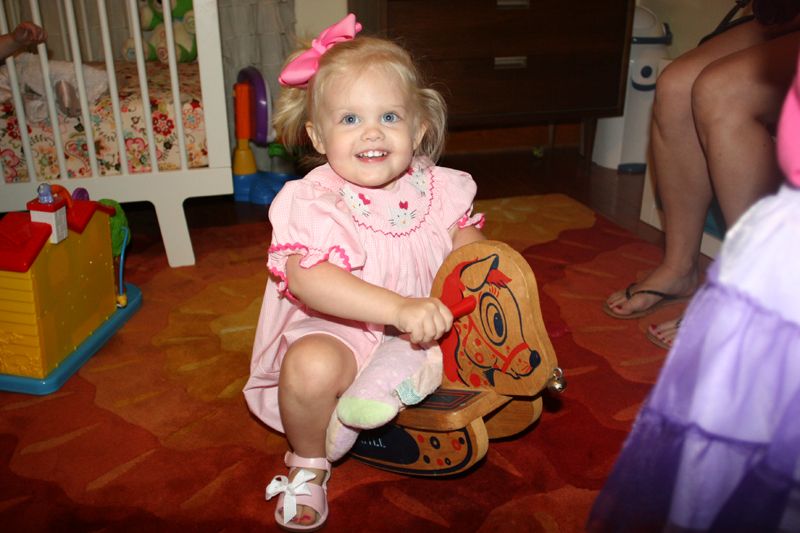 We ate first thing. The menu consisted of chicken caeser sandwiches, build your own sandwiches with turkey and three kinds of cheeses, cherry/blueberry/strawberry fruit kabobs, guacamole salad, chips and onion dip, and chips and salsa.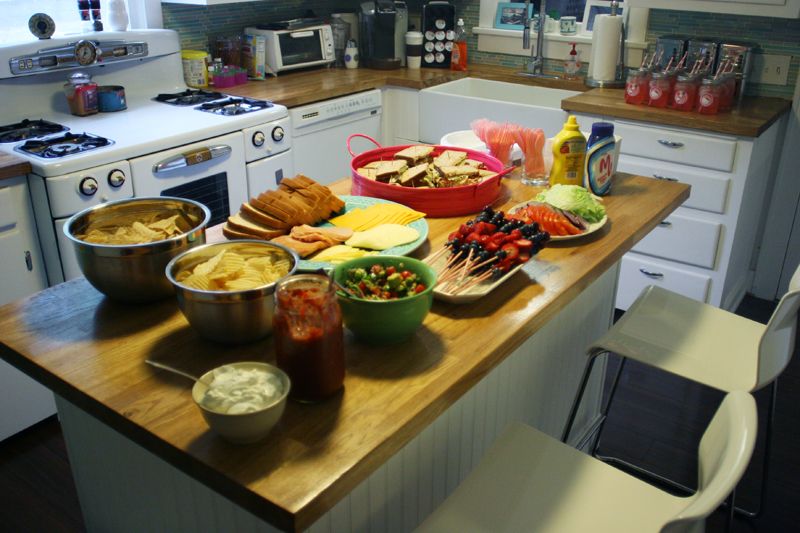 We had strawberry lemonade to drink.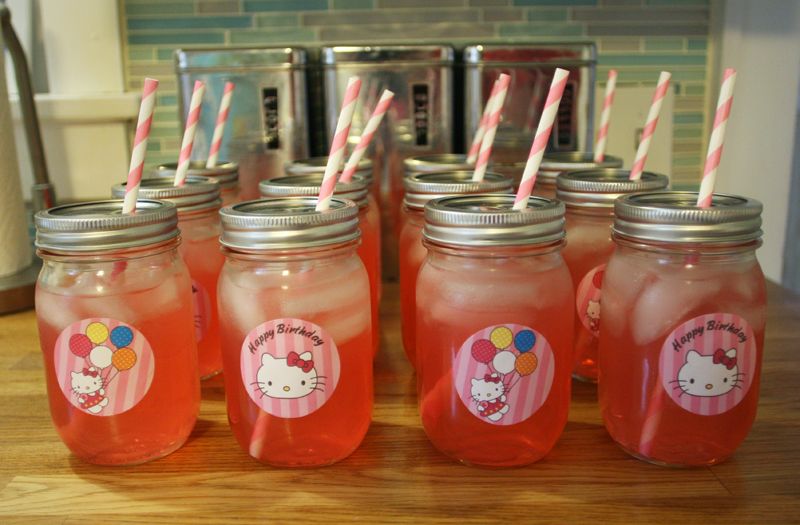 After we all got stuffed it was present time! Ingrid had been so funny talking about her presents. She had been telling me for a couple weeks that she would have one, big, pink present to open. I told her she would have lots of presents to open at her party. Her response was always, NO. I will have ONE pink present to open. hahaha. She definitely had more than one gift.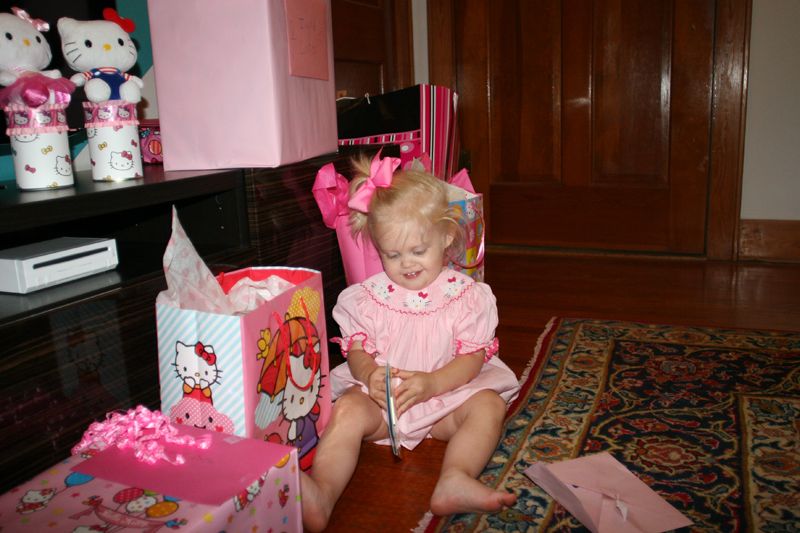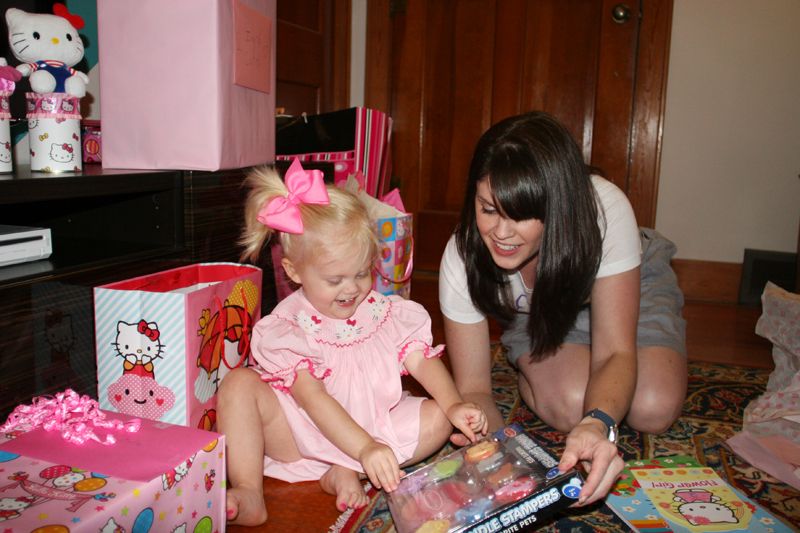 She was showered with stickers, puzzles, stamps, books, shoes (Hello Kitty Vans, turquoise sparkle Toms, turquoise sandals), and clothes. She got a new placemat/plate/bowl set (that she LOVES), a sprinkle mat, a Dora guitar, a backpack with her name on it, a new pirate ship water table, and a play house! I'm sure I'm not even naming everything. She was genuinely excited about every single gift she opened. She was very appreciative and has played with everything. When it was finally time for her cake, she helped everyone sing and then she blew her candles out all by herself. Derek got all that on video for us! It was a very special day that I will never forget!