I wanted to post more pics from the fantastic weekend and have a jolly, happy post...but I just can't. Today was a rough day. Ingrid had her 6 month shots + her flu shot. So I was a on edge a little bit today at work just thinking about those needles looming ahead. And I got a new student today which always throws me into a funk. Nothing against the little girl starting at a new school in January--poor little thing. It just throws the whole class off a bit and takes some time readjusting. But the real kicker was knowing I was going to move Ash out to the barn today. More on that in a bit.
Ingrid was sound asleep arriving for her appointment and I hated to think of her waking up to needles being jabbed into her legs. So thankfully she woke up on the way in and was in a great mood talking and laughing with me. Derek held her for all four sticks and she cried her little eyes out. But just for a few minutes. She got over it very quickly and was a gem the rest of the night. She even asked to go to Miguel's. And of course her dad and I said yes!
Her boo-boos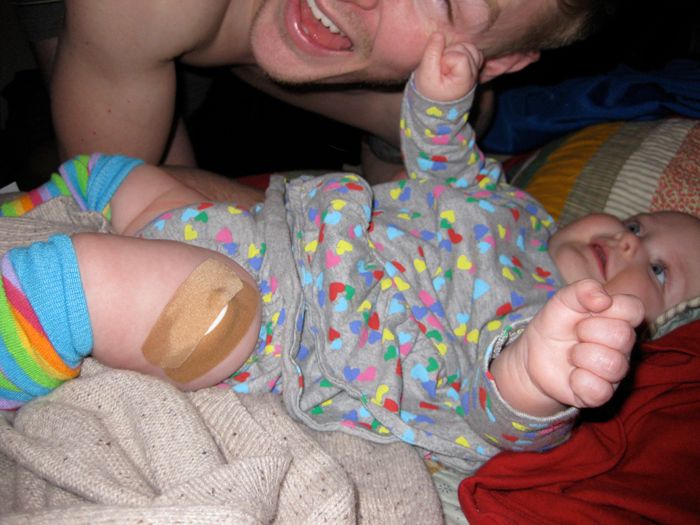 Kisses from daddy make everything better
**********************************************************************************************
When we moved to this house July of 2009 Ash didn't take it well. She had a hard time adjusting. She moved in with mom and dad while we did some of the major renovations, knowing all the loud noises would scare her to death. When she came to the house we moved her into the room that was next to ours and tried to make her feel at home. Soon after she had started settling into that room we found out that we were pregnant and knew that room would become the baby's room. So Ash had to move again. Upstairs. She never really adjusted to living here in this house. She acted out by not using her litter box, marking all the edges of the room, spraying, etc. She started attacking us at random times. We were scared to let Ingrid around her too much because we never knew what she might do. I was in denial about the whole situation the entire pregnancy. Mostly because Derek took care of everything cat related for me. Over the past few months I knew that Ash would have to move out of the house. She was ruining the upstairs and unhappy being cooped up all the time. It just broke my heart and caused many, many tears/breakdowns. I don't get
too
emotional about a lot of things. But my pets cause the waterworks to flow. I've been trying to psych myself up for the past two weeks, telling myself how much she will love it in the barn. And I really think she will. But I won't see her as much. She'll have less human interaction and contact. I will just miss her. Like she's gone. Even though I know she's not. Mom and Meme have been very encouraging throughout the whole process. Thanks so much! And a huge thanks to my BIL Darren for helping me get Ash into her carrier today. It was somewhat of a battle. A big battle actually. And I couldn't have done it without him. And thanks to D for letting me put Ash in the barn instead of insisting we get rid of her. Because I don't think most husbands would be so understanding. I've been looking at pictures of Ash from our happier times and I thought I would share some. She's such a beautiful cat. And I love her.