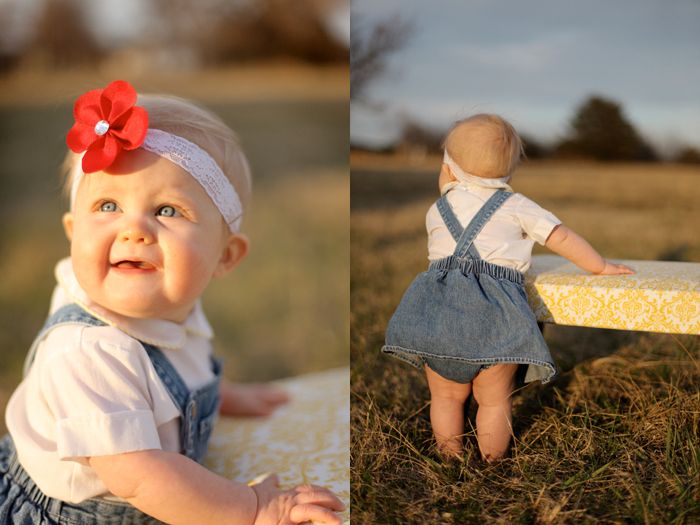 We're so lucky to have daddy to take these pictures of you at every milestone. It was very warm Thursday afternoon so we took advantage of the daylight and came outside. You're wearing a vintage peter pan collar button-up shirt that was a gift from Ashley and a denim jumper we got for a steal from Shannon. Happy 8 months!
Dear Ingrid,
You are eight months old today. In four short months you will be one whole year old. You top the scales at 18 pounds even. I'm not sure how tall you are now, because I can't get an accurate measurement. You're just too wiggly! You have changed so much in this last month. You crawl everywhere. You're a lot harder to keep up with these days! You also want to pull up on everything. You're favorite things to pull up on are: the footstool, couch, toy box, coffee table
(which is a big no-no)
, and play cube. You can walk around two sides of your play cube holding on. And you can walk down the length of the couch while holding on. But you will only work that hard if there's something you
really
want at the other end! You can wave bye-bye but you don't do it consistently yet. You love to clap, play patty-cake, and peek-a-boo. You will hold a blanket up over your face while I say "Wheeeeere's Ingrid?" Then you drop it down and laugh histerically. You are such a happy, happy girl. You smile and laugh almost 100% of the time. You only get sad when I won't let you be totally independent. I can't help but follow you around, guarding your every move. I know I won't be able to keep your from getting bumps and bruises along the way, but right now I can still prevent most of them. I love holding you and cuddling you close, but you want to go, go, go. I cherish our time in the evenings when you are sleepy and I get to read you stories and rock you to sleep. You pat my chest and clutch my shirt. You sing a little song when you're about to give it up for the night. It's the most precious sound I've ever heard. I love being your mom more than I could have ever imagined. You are my perfect little baby bear. I can't dream of my life without you!
Love,
Mama