This weekend was Project-Get-Stuff-Done. And I feel like it was successful! I had a specific plan and stuck to it. I was to work as much as possible every second Ingrid was asleep. Naps and nighttime. And I have a lot to show for it. Yippee! I sewed two valances, two bed skirts, and two crib sheets. All out of the new fabric I got with Mom last weekend. It was so fun to dust off the sewing machine and make some things for the babies room. Derek put together Liv's crib and rearranged the nursery so that it can accommodate
two
girls. He hung my valances and I love how they turned out! Who knew that I would suddenly be obsessed with valances?? Next, I want to make valance boxes for the bedroom. But--first--we must continue with the girls' room. I don't want to change too much in the room, mostly due to time, money, and energy. Plus--I still love it. So, the main changes will be the addition of furniture, new layout, and all new fabric. I can't wait to share pictures.
In other news, guess who went to the church nursery for the first time last Sunday?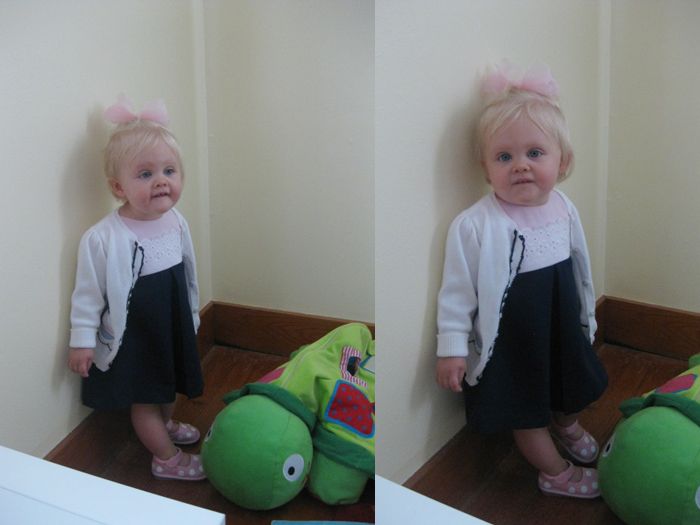 Ingrid has finally gotten to the point where she can no longer stay through a whole church service without being a distraction to those around her. I
really
didn't want to take her back to the nursery because I knew she would cry and cry. So Derek took her back after the music. And he picked her up early. So she was only there for about 30 minutes total, but that was hard enough. This was the first time a non-family member had kept her for any amount of time. And she did cry and cry. But not the whole entire time. She would have if someone hadn't held her though. New place, new people--not her thing. She went to the nursery again today but Mom and Dad were working this Sunday, so she was fine. She even played with the other kids a little bit. Slowly, but surely I guess. I'm proud of her regardless.
I have so much more to blog about, but it's 11:54 and I'm worn out from the busy weekend! Can't wait to show pics from Ingrid's first storytime at the library!