We had school today. Even though most of the sideroads were still covered in snow and ice, we were at the school house. And it was the 100th day of school. Which is a really big deal to first graders. We did all kinds of fun things, but my favorite was the "100th Day Olympics." I heard all kinds of phrases, such as: "I have sweat coming onto my face." "My legs are all knotted up in cramps." "This is the funnest thing of my life." "I think I might throw-up." "I'm glad I have good muscles." These are just a few of the wonderful comments I heard during the Olympics in my class. I loved it. And all the while we were sweating, it was snowing up a storm outside. The admin graciously let us go at 2:20. How nice. Right before my kids were heading to art and I was going to get some work done. However, I did get home by 3:20 which is extremely early for a Friday, so I won't complain...Once I got home is kept snowing and snowing so our Saturday school was CANCELLED. Yes! I realllly didn't want to go to school tomorrow, so I'm thrilled. Now that the 100th day celebration is behind us, I can focus on the next holiday at hand. Ten days and counting and I'm thinking about hearts.
I found
this
delicious scone recipe via
Prudent Baby
and I modified it to fit my lactose intolerant needs. While I'm sure they weren't as delicious as the ones laden with heavy cream, I didn't have trouble gobbling them up. And I got to use one of my heart cookie cutters. So I was happy. Ingrid is also seeing hearts in her ridiculously cute robe from the Statlers.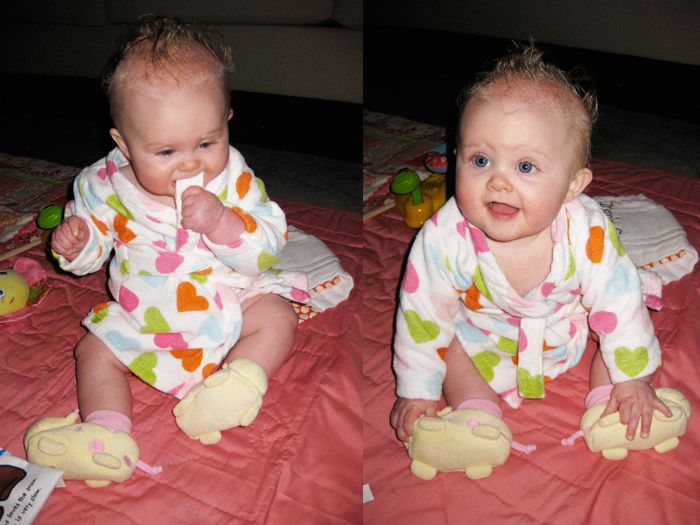 Heather
told me that she and Amelia made some Valentine's decorations and I can't wait to see them. Hopefully tomorrow I will have a little time to make some for our house before it's too late.