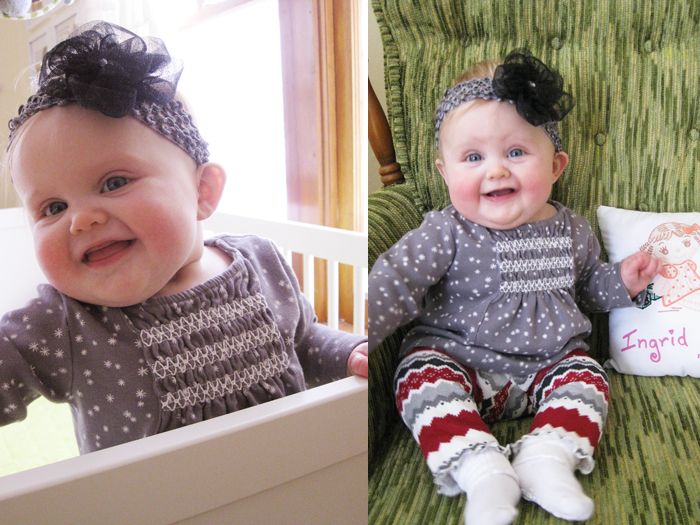 Dear Ingrid-
You are seven months old today. You are getting to be a big girl. It seems Your sixth month of life flew by even faster than all the others. You experienced your first snow this month. I think you are my snow charm because you brought me more snow days than usual. And I soaked up those days home with you. I love the mornings when you wake up and gaze around your room. You first look up at Wink, your owl mobile. You give him a big grin. Then you look over at your wall shelves and say hello to the animals resting up there. Then you move over to your tree wall graphic and peer at the flower leaves fluttering away. But you never forget to crane your neck around to see if Violet watched you sleep through another night. I'm so happy you love your room. Mommy and Daddy spent days, weeks, even months planning your special place. Every detail was thought out and we handmade several items in your room that you can treasure always.
You are still a very good eater. We didn't let you have a bite of baby food until your six month birthday. But you were definitely ready for it. You are eating carrots, squash, sweet potatoes, green beans, and peas. Your fruits are peaches, bananas, apples, prunes, and pears. You have loved everything. If we don't give you a bite fast enough you let us know about it! I hope you continue to be a good eater and like a variety of foods.
Toys, toys, toys. You love your toys so much. You love to sit up and play with your steering wheel, spinning ball, light-up flowers, and basketball goal. You love to stand up at your play cube and listen to the blocks makes noises. You love to bounce in your jumper and play with everything on it, but your favorites are the frog and flower. We have your pack-n-play set up in the office, and you love to play in it by yourself if mommy is cooking or daddy is working on the computer.
You love to make noises. Da-da is your favorite sound by far. But you will say ma-ma, ba-ba, and ga-ga. You love to say mmmmmm while you are eating and you have an ear-splitting shriek when you are laughing.
You are the absolute light of our lives. Happy seven months!
Love,
Mommy
P.S. I think you're starting to look a little bit more like mommy. Except for the hair...