Friday was Derek's birthday and we had a fun weekend celebrating. Ingrid had fun picking out her Dada's card and couldn't wait for him to open it. (She loves cards. Is mildly obsessed with them. Especially ones with dogs, cats, or Elmo on them.) So Friday morning before we headed to work, Derek opened his cards and presents from Ingrid and me. She was ready to help!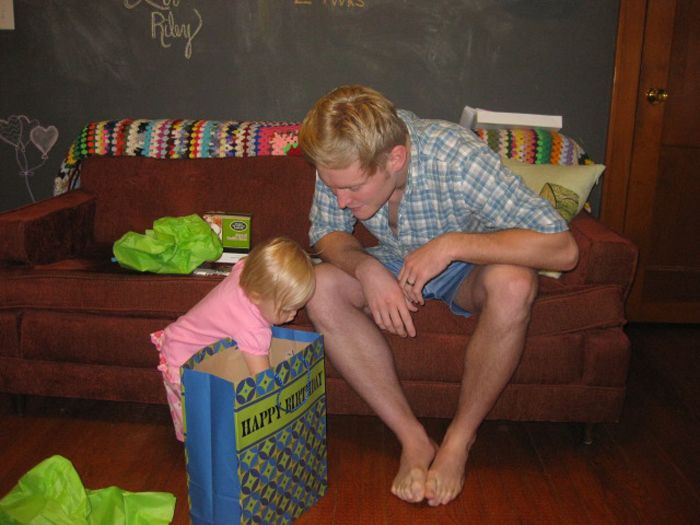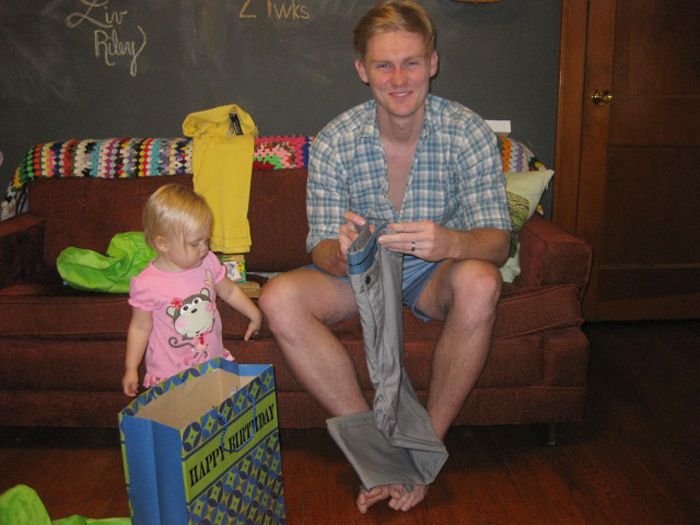 Friday night we headed up to the Landing to hang with Ryan and Lauren. We visited and had great conversation. We met up with a couple of other guys and ate at Famous Dave's. Derek and I shared a full rack of ribs. They were delish. It was a joke with our waiter the whole night about singing and making a spectacle over birthdays. He quickly established that he doesn't sing or get too excited about anything. haha. He then went on to say last year his friends took him to Joe's and they made him ride around the restaurant on a stick horse and it was the worst birthday of his life. So he didn't like to make big deals about other people's birthdays. Derek was relieved because he wasn't wanting a big production. While he was gone to the restroom--Wade (our waiter)--comes out with this ice cream dish and a huge firework sparkler shooting out flames! It was so funny and unexpected.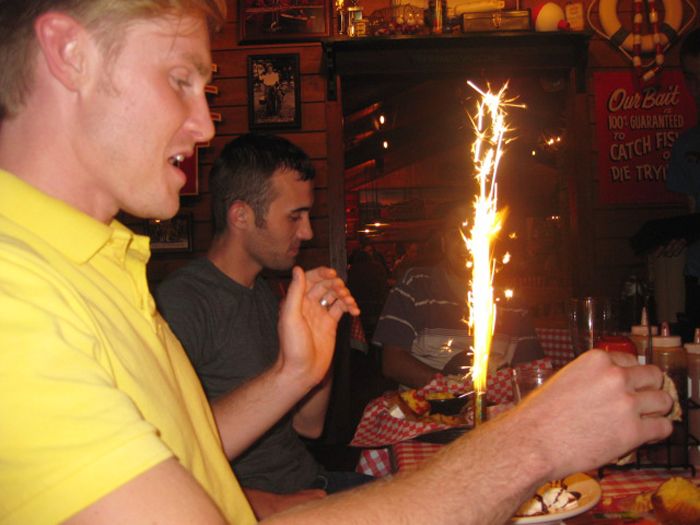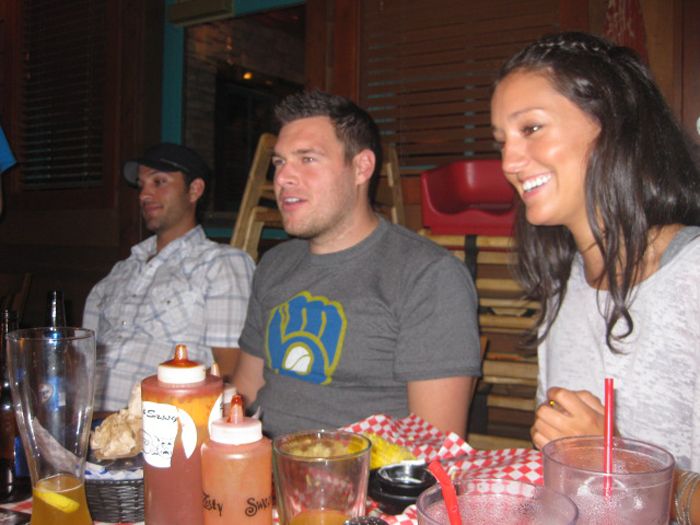 Saturday, Derek got to together with some of his old high school buddies for the day. They had lunch, played golf, tried out our new pizza joint for dinner, and then hung out in the man cave. I was glad he got a chance to reconnect with some of his pals. Josh stayed with us Saturday night and Ingrid was super shy at first. You could tell she liked him, but was a little hesitant. Sunday morning when he came upstairs, she started saying "Hi Josh!" over and over. She loved him. He and his wife are finding out if their baby is a boy or girl today!!! Sunday we had lunch with my parents after church. They came over to the house afterwards for Derek to open his gifts. He had plenty of help once again.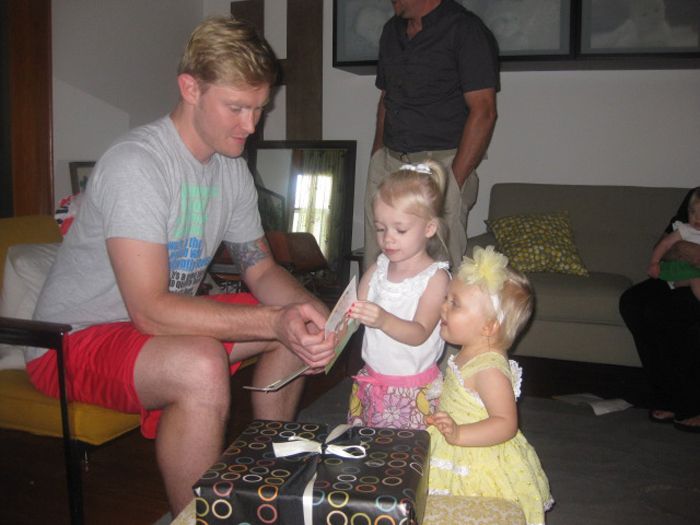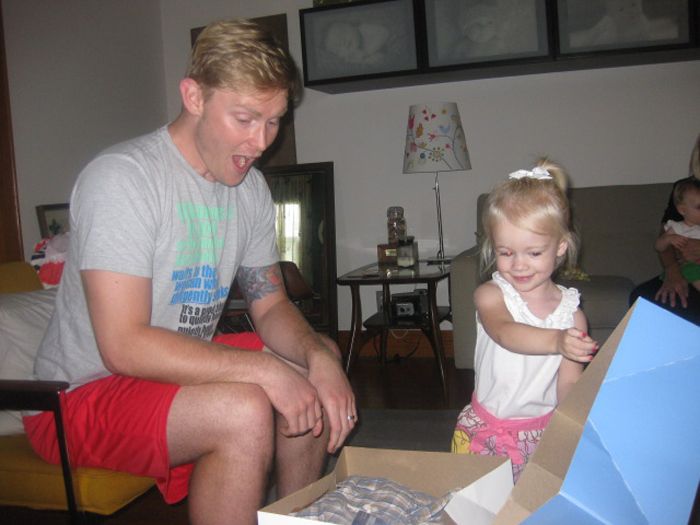 My dad got the best gift of all! Derek opened his gifts and then my dad went to the door and said, "I think I hear Mike and Frank. I've been doing a little picking." (We love American Pickers.) He had found Derek this old metal cabinet that has a really cool rusted patina with old stenciled lettering and lots of storage. I can't wait to see what he does with it!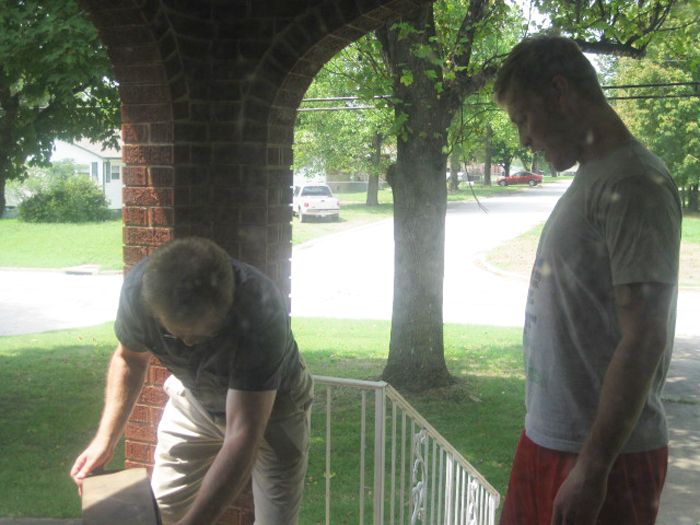 This pic was taken through the screen door. Windex anyone? Sheesh.
Here's a shot of the birthday boy with his lemon drop princess. Can you tell I'm obsessed with this dress??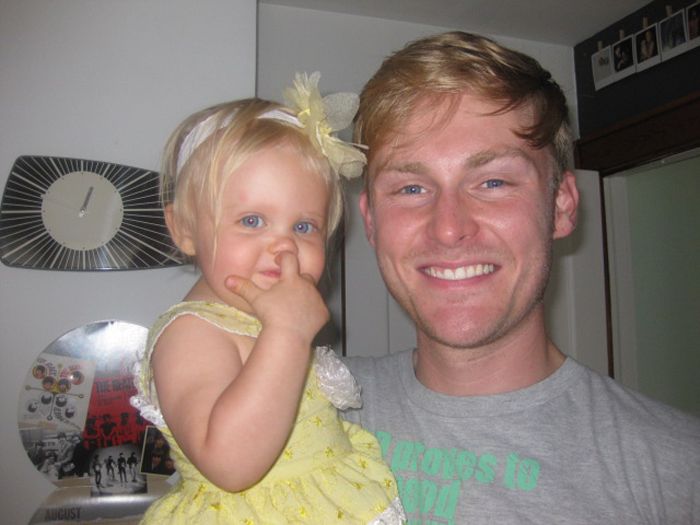 We weren't done celebrating yet. We headed to Glenda and Daniel's house for supper. Ingrid decided to play with this little riding toy for the first time! She normally wants nothing to do with it.
She definitely got plenty of attention while we were there.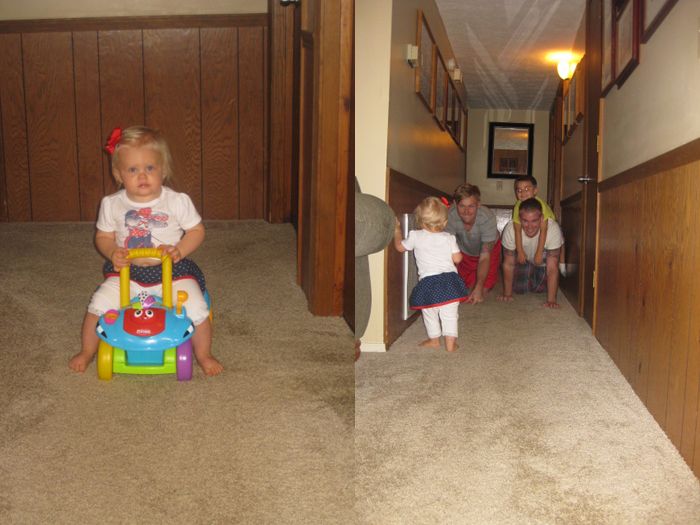 Derek got more good gifts and some yummy strawberry cake with cream cheese icing.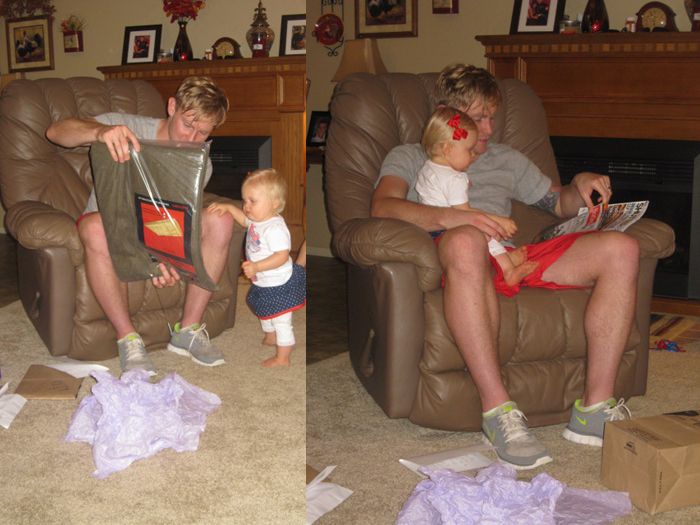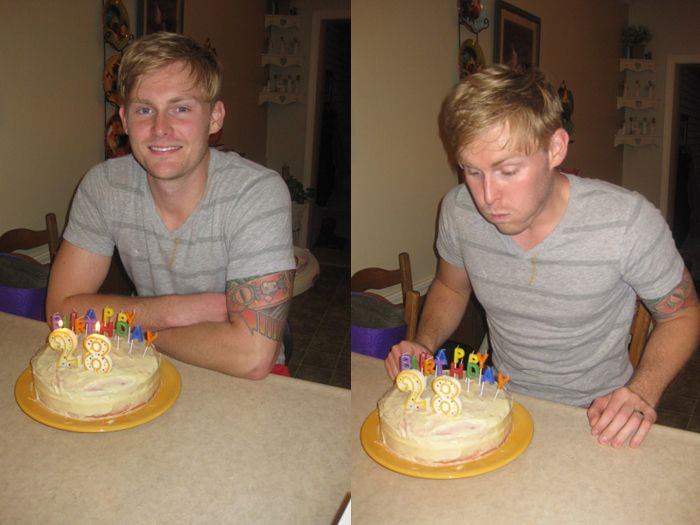 This is the only pic I got in the whole weekend. And of course it's in a t-shirt on Sunday evening. Out of all the cute outfits I wore. Drats. At least Ingrid looks as precious as always.