8/14/2011-8/21/2011 was quite possibly the longest week of my life! School has officially begun. It is in full swing. I had a pretty good first week, considering rules and procedures are my least favorite topics. I'm ready for this next week when we can get in a bit more of a routine. My class is totally adorable. Cutest kids in the world. And boy are they talkers! Wow. Most talkative bunch yet, I'm sure of it. I do have a couple funny stories from the first week. Here's the run-down of my top picks.
#1: We were going around the room and telling our name and something fun we did over the summer. E starts talking about how she got to go to the beach! They got to ride in a boat and saw dolphins, got to hunt for hermit crabs, built sandcastles, the works. After this great recap of her trip she says--very seriously--"There was one problem though. I went with my bubby, mom and my mom's boyfriend. And he has a serious problem with gas. It was really bad." I thought I would die. SO funny.
#2: I got an email from a mom with a funny story from her daughter. All my kids got to meet me at the end of their kindergarten school year. This girl's mom had found out she was in my class and had told her I was going to have a baby. Well, at the beginning of June, I wasn't showing yet. Now, obviously, I am. B came home and was shocked beyond belief that I looked so pregnant. Her mom said "I told you she was going to have a baby." B says "Yeah--but you didn't tell me they had already put it in her belly!"
#3: My kids love the fact that I'm pregnant and want to talk about the baby. One girl asked how the doctors knew it was a girl. I told her they have a special machine that can take a picture of the baby and that's how I knew. She said "Next time you go to the doctor, I want you to take me. I'll just sit in there and watch."
Good stories, huh? Another plus of the week was my motivation in getting dressed. I tried super hard to look put together every day. No go-to outfits that I normally throw on. I actually put thought into my wardrobe. (I kinda had to though because my belly suddenly tripled in size this week. Weird.) I wanted to take a pic a day to document my outfits--that's how proud of myself I was. But that didn't happen. I was sooooo tired at the end of each day. More exhausted than ever in my life I felt like. Ingrid was also teething horribly and decided to get up around 5 each morning. Agh. Hard. This week will be a little easier I hope. Slowly transitioning back to the teacher life.
We had a great weekend. It was Derek's 28th and I have tons of pics. I will get to them this week for sure. Also, Ingrid got to play with her cousins and had tons of fun. I got some cute shots there too. Not nearly as cute as the ones Derek got last weekend though! He did a photo shoot of the girls individually. I can't wait to see the pics. Here are a couple of behind-the-scenes shots.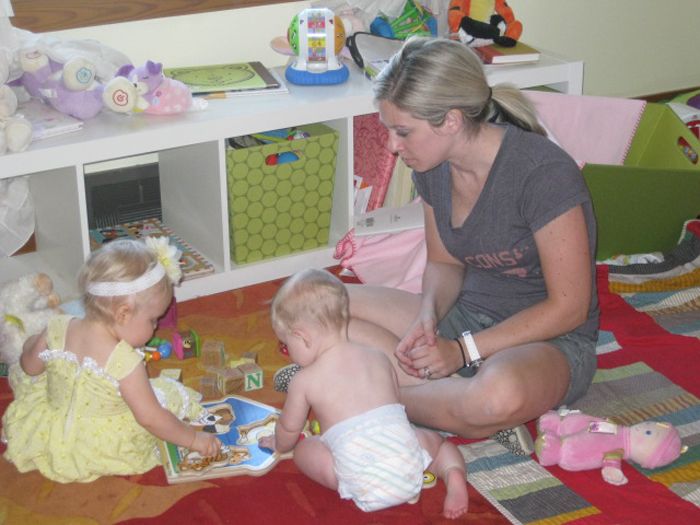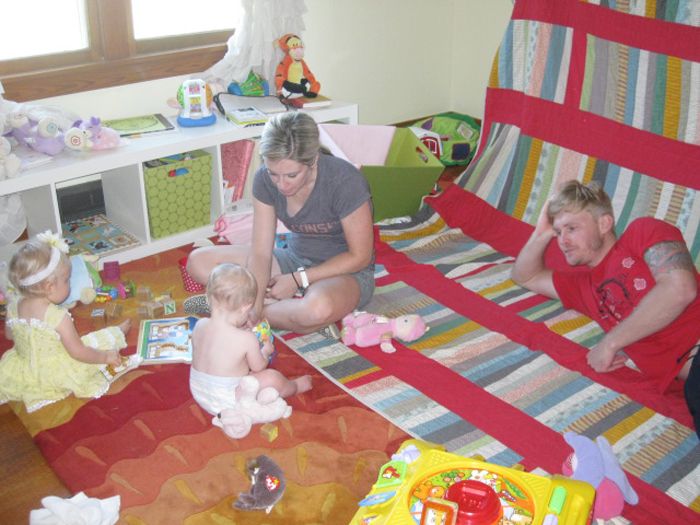 Amelia starts school today! We are wishing her lots of luck and hoping for a fun-filled day. Love you Buzz!