Last weekend was fabulous! I got to stay at the Hilton Promenade--right over the Landing!--courtesy of the Statlers. We had so much fun. I've never shopped with such a fun group (aside from Mom and Heather) who could shop from sun-up til sun-down. I loved it. I made a list before we went so I would stay on track and not go crazy buying one ZILLION dresses that I don't need. Because that's what I usually do. I'm drawn to dresses. But I know how impractical they are when you are nursing--which I will be doing again very shortly--so I didn't want to get any unless they buttoned up. I stuck to my list pretty tight. So I feel like I did pretty good. Plus--I'm close to 24 weeks pregnant and that never makes it super easy to shop. So that helped my wallet a little bit. Friday night we stuck close to the Landing and ate at Joe's Crab Shack. Although it was super crowded and the wait was INSANELY long, my crab-stuffed snapper and crispy new potatoes made it all worth it. Oh--it was so good. Saturday morning we grabbed some breakfast at Starbucks (classic coffee cake and DECAF iced vanilla late) and headed to Kohl's. I hit the jackpot as far as sales go. For instance--I got a pair of black pants for 90% off!! Regular price $49.00, my price $4.90. Seriously?? Plus an additional 15% off that thanks to my printable coupon. Wahoo. I spent $66.00 and saved $157.00. My best save to date. For sure. We went to T.J. Maxx after that and then braved the heat at Tanger. We were starving when we got there so we grabbed a quick bite at A&W. That rootbeer almost saved my life. I think.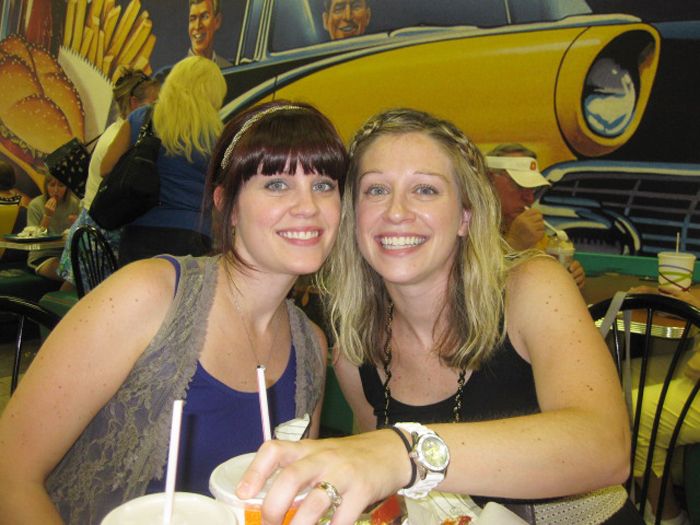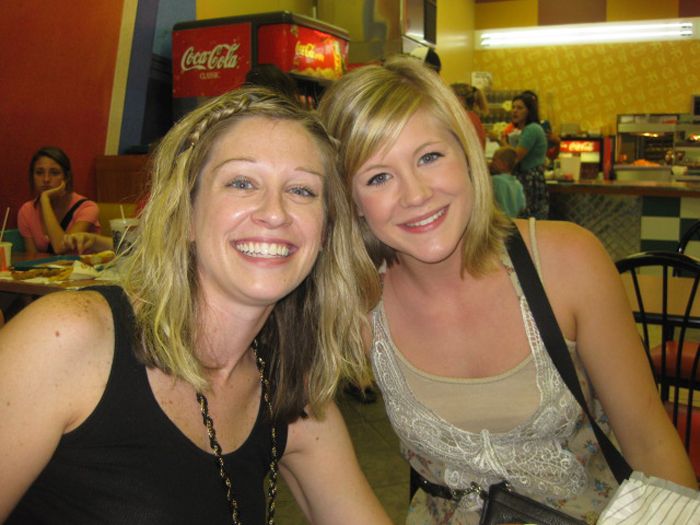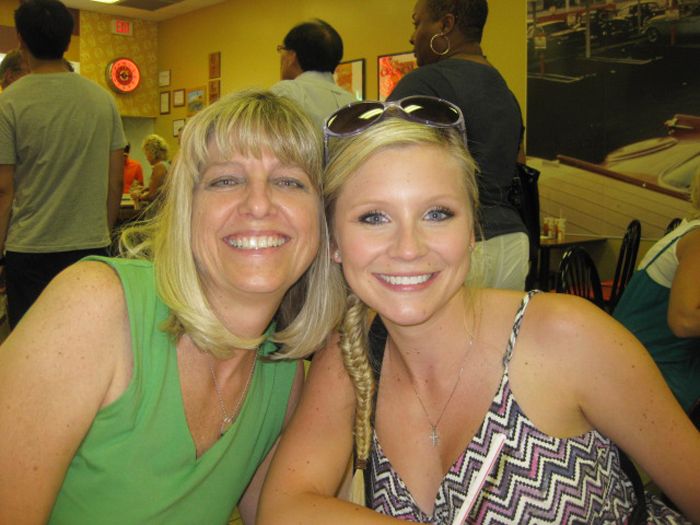 We were revived and ready to go. There wasn't a chance to take a single picture more from here on out because we were SHOPPING. Seriously shopping. And we made a haul. Proof:
The only thing funnier than Heather almost suffocating from all the shopping bags was Mom and Kim trying to take a picture of it. Bless their hearts. It took them a while.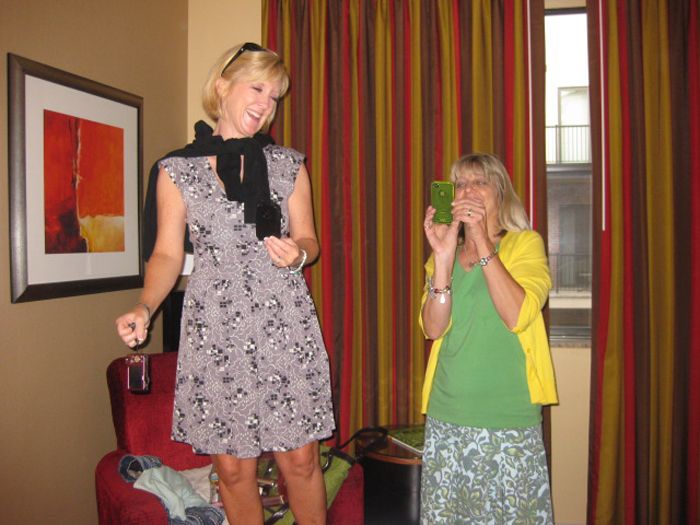 And were were all dying laughing again.
And ready for supper! At Cantina Loredo. MMMMM. So good. We ate and ate and ate. And still had room for the Mexican Apple Pie. Kaci and Heather had been talking about it all day. And it did not disappoint!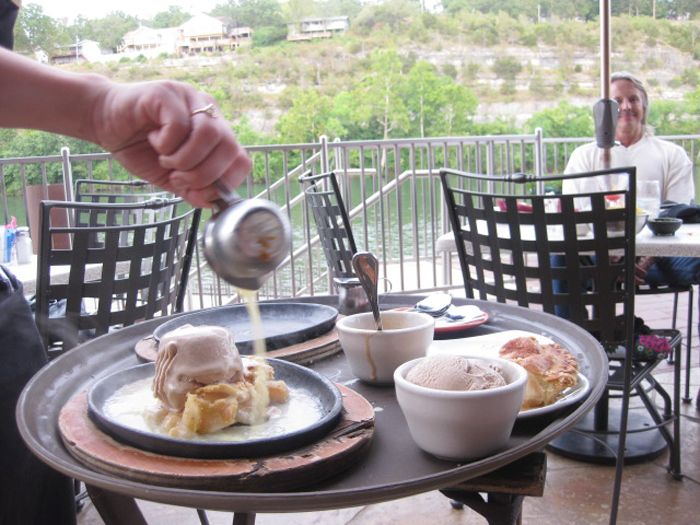 We gobbled it up and took a few snaps.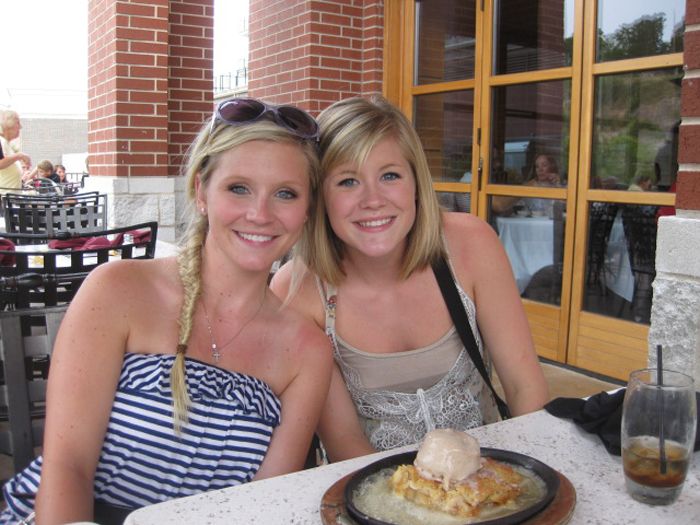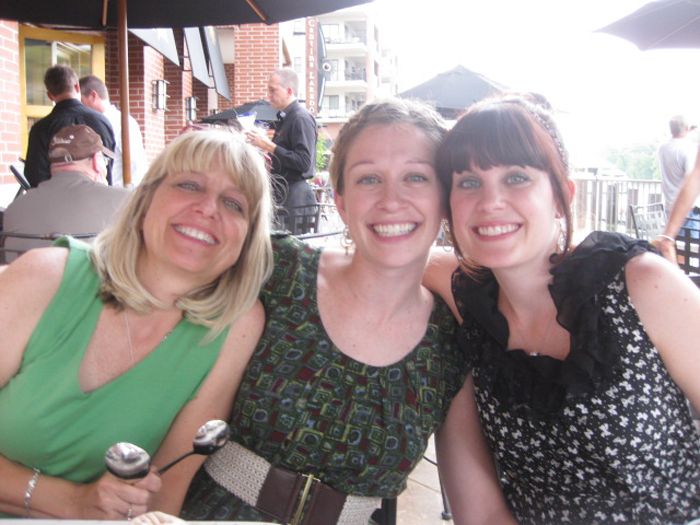 A lady sitting close to us noticed we were taking pics and asked if we'd like a group shot. Heather said, "How nice of you!" She said, "Oh, I'm only nice when I drink. Usually I'm really mean." Heather says, "Well, in that case, drink up!" Lady laughs hysterically.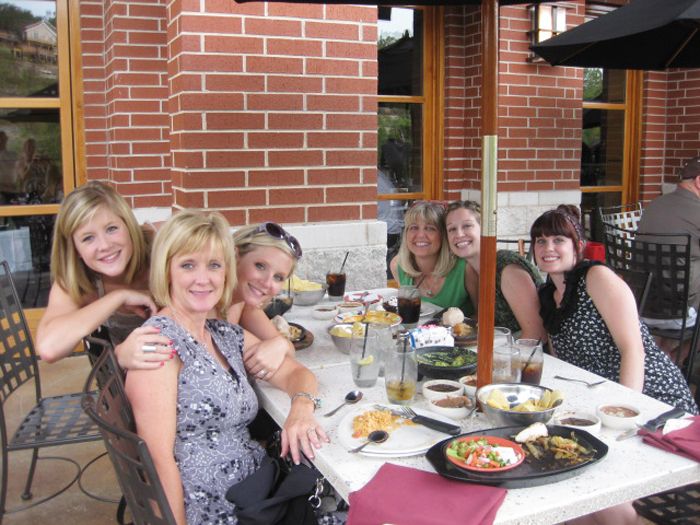 Kac and Shelb kept finding the CUTEST dresses and belts in Apricot Lane and Francescas. And they looked gorgeous in every single one of them. We made them try each one on and model for us. I liked it best when they would come out in the same dress!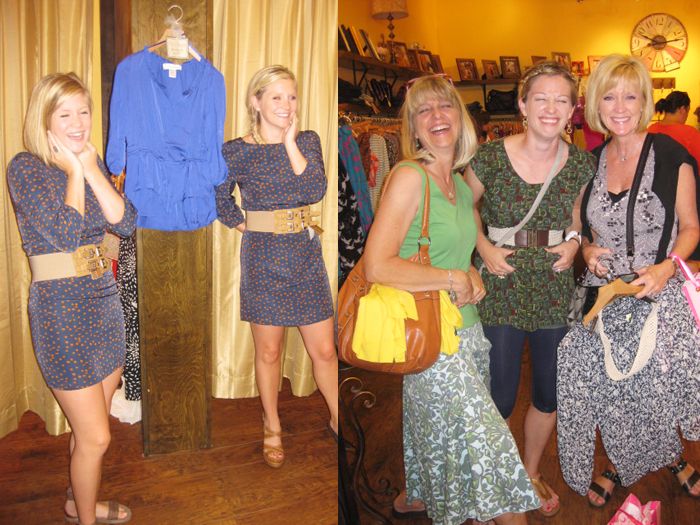 Are they models? Come on! Gorgeous. The pic to the right is of mom, Heather, and Kim being ridiculous and grabbing their stomach "flab." Which they have none of. But Kim kept trying to pretend she did all day. Bless you heart, Kim, bless your heart!! Thanks for the best trip ever. Let's schedule another one ASAP. I can't wait until next summer.