Before I begin to rant on about how awesome my family is, I have a small side note: I am two days away from 15 weeks and my appetite is BACK! Proof: Breakfast=two bowls of frosted flakes, Lunch=cup of tomato basil soup, cranberry turkey sandwich, bag of chips, Supper=chicken strip sandwich, cheddar peppers with ranch, large vanilla coke, double stuff oreo blast. I'm officially back on the eating bandwagon and it feels oh-so-good. A special thanks to Ingrid for reversing my lactose intolerance. And for all those that say this new bambino is going to reverse it back, I have one thing to say...HISS!
Okay, okay, back to the reunion. I have the best family of all time. Immediate and extended. We have had family reunions every single year for as long as I can remember. They've slowly progressed from one-day, sun-filled picnics at Tucker Hollow, to three-day, air-conditioned feasts at Indian Hills Resort. We had a wonderful Memorial weekend and I have way too many pictures to show for it. Although almost every picture is just of our immediate family, no extended family. Mostly due to Ingrid's shy nature. She wasn't so sure of all the people. She wouldn't go to anyone except the fam she was familiar with. But she didn't cry or crawl up me like I thought she would. So overall, I was very happy. Our cabins were right by the lake, and we took advantage of walks by the water and trips down to the boat dock.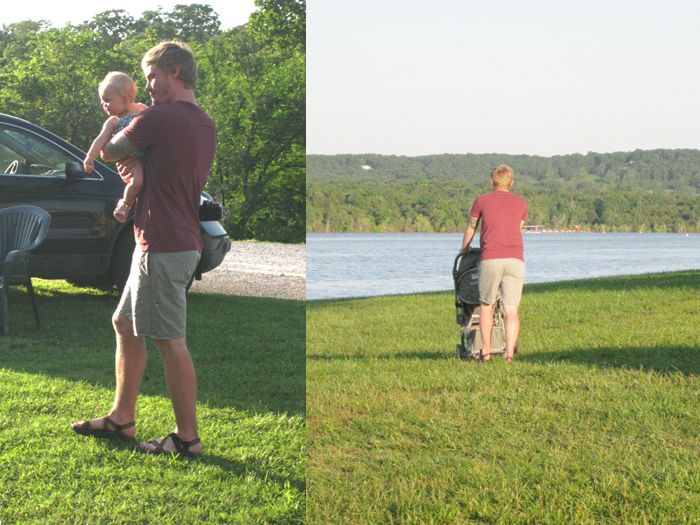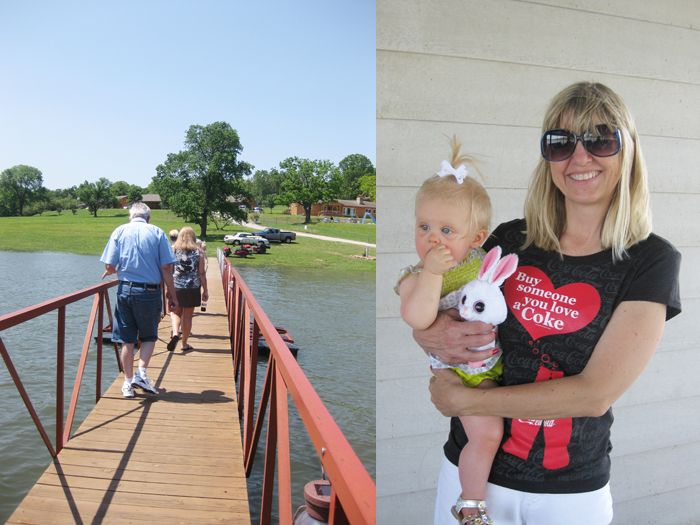 This was Ingrid's first time to ever stay away from a family member's house. She slept in her pack-n-play like a champ for naps and nights. She loved our cabin!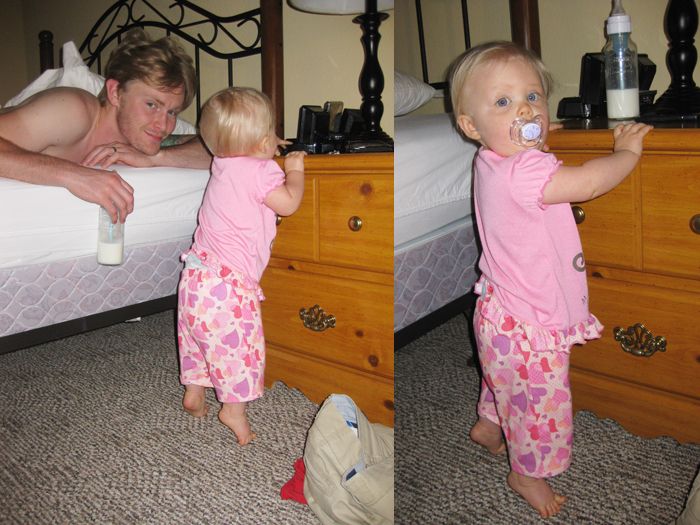 Mom and Dad bought the girls a new water table to play with while we were there and it was a big hit. Amelia and Ingrid wanted to play in the water 24/7. They had a ball. Elise watched from her exersaucer a lot of the time and she was an angel. She's seriously the best baby. She just goes with the flow and has such a laid-back attitude. (Unless you try to make her go to sleep. heehe.) This picture also shows off Amelia's french braids. I've been trying to get Buzz to let me braid her hair for months upon months and she won't ever let me. But, she was so distracted with the water table, she didn't even realize I was braiding until I got one done! Then we convinced her to let me do the other braid by telling her she would look just like Jessie from Toy Story 2!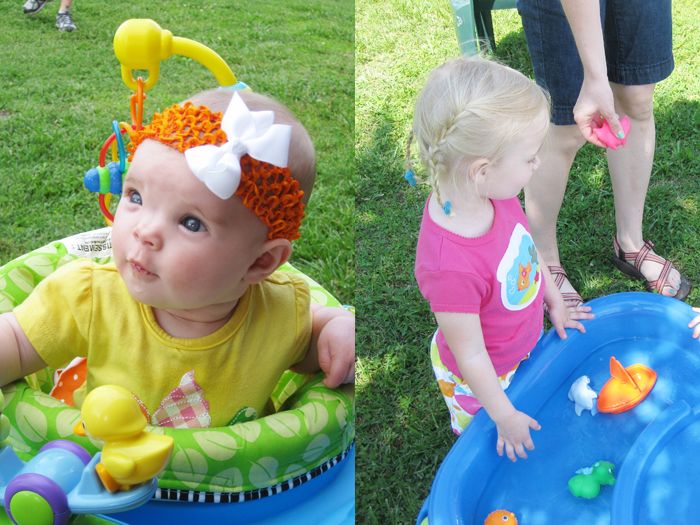 Ing was so busy all weekend that she didn't have much time for the bottle. She preferred her sippy cups most of the time. She seems like such a big girl! At least this made me realize the transition away from the bottle in a couple weeks won't bother her too much!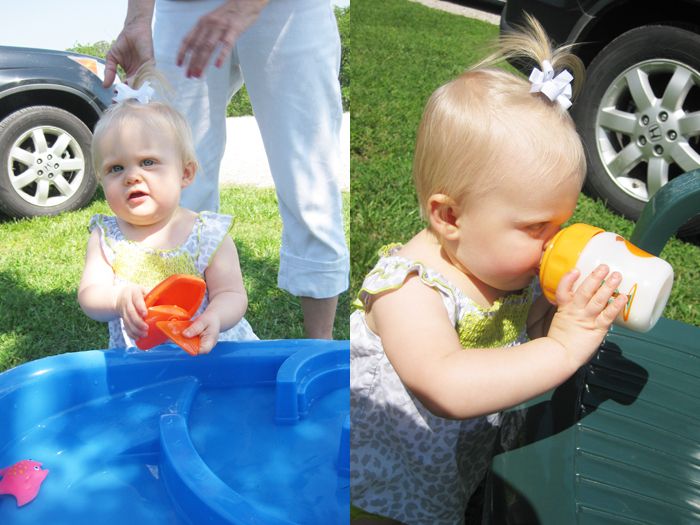 Mom got a new little doll house for the girls too and they played together with it really well.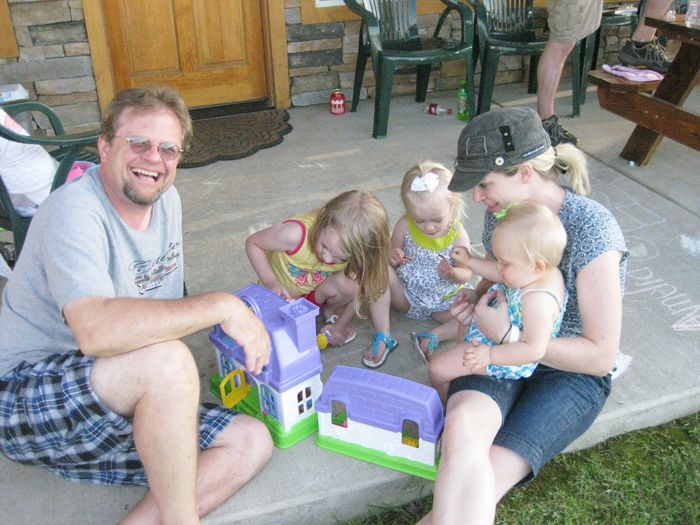 Mom got all three girls matching dresses for the first dinner and they looked soooo adorable. I got ZERO pictures. I have no idea how this happened. Heather got some cute ones, so hopefully she'll let me steal a couple. The only picture I got of each girl in their dress was while they were eating.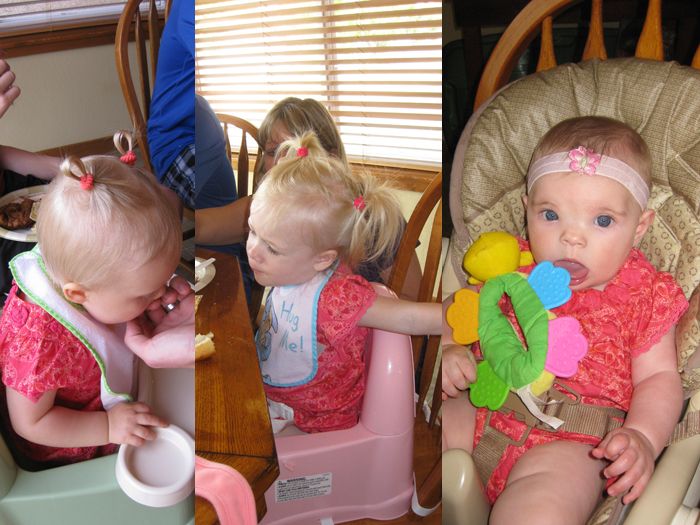 After dinner the first night Amelia wanted to swim "very, very bad." So Derek and Ross told her they would brave the frigid water to get in with her. It was the coldest water of all time. I told Ingrid she would have to wait until the next day since it was so close to bed time. She wasn't too thrilled. Amelia, however, was very thrilled with her dad and Uncle DD. She didn't act like it was cold in the least.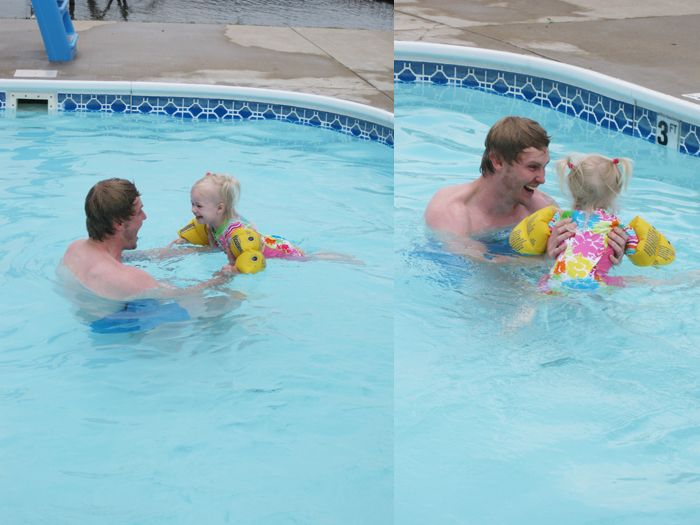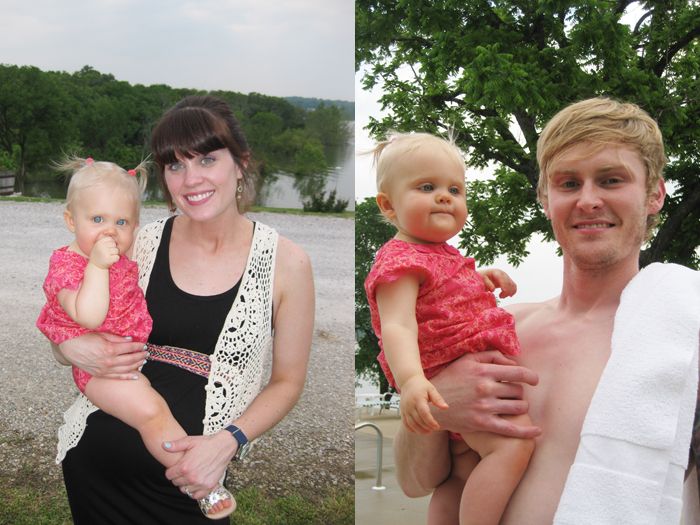 Ingrid Cate did get to swim the next day, but I'll have to save those photos for another post because I took wayyyy too many! I had so much fun with my two best friends.