Four dinners out. Four relaxing nights. Four delicious meals. Four best friends.
Our nights out to dinner were so wonderful. We went when we wanted, ordered what we wanted, and stayed as long as we wanted. What a luxury! I loved my meal at all four restaurants. They were equally delicious. But--someone decided we needed to rank the restaurants and we had to factor in all the elements: meal, atmosphere, waiter, etc. I'm sure you can imagine, this was a difficult task for me. I didn't want anyplace to be ranked 4th! But I had to do it, so here are my rankings:
#4 Hardrock Cafe: The restaurant was celebrating their 40th anniversary and they were playing great 70s music videos. It was a really fun night. I had a huge chicken nacho platter and I loved it. I ranked HRC 4th just because of what I ordered. I can get chicken nachos lots of places--so it didn't stand out as a great vacation meal.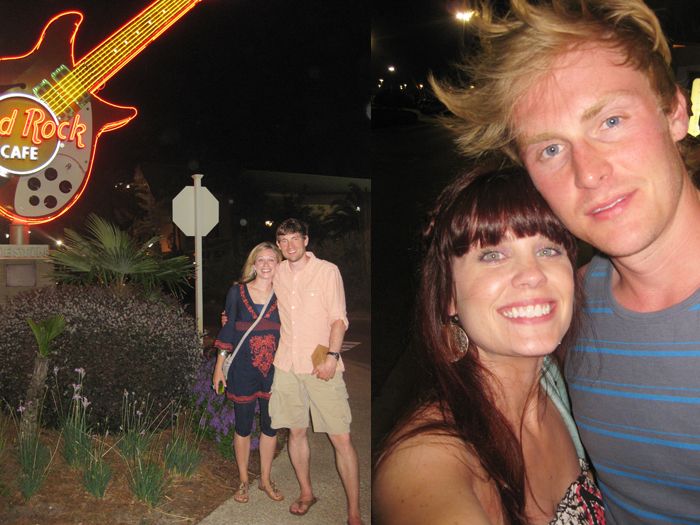 #3 Hog's Breath Saloon: Oh my word. This meal was to die for. Crabcake appetizer with delicious dipping sauce. Grilled mahi mahi with hushpuppies for the main course. It was so good. The only problem here was the lady sitting directly behind me was SO LOUD. Obnoxiously loud with strange, strange questions to her niece(?). She killed the awesome atomosphere of Hog's Breath. But my meal was so, so good!
#2 Bonefish: This was the only restaurant that I had never been to before. It was a tad fancier than the other places we went. I loved the atmosphere. We got a spacious booth (I was thankful because the place was packed!) Our waiter here was the absolute best. I loved him. He was witty and on top of it. For example--
Robbie: "Care for any dessert tonight?"
Heather: "We are so full!! Does anyone ever order dessert?"
Robbie: "The ones who do, SHOULDN'T!!"
Hilarious. And my food was wonderful here too. Garlic whipped mashed potatoes topped with a grilled chicken breast. Wilted spinach, goat cheese rounds, and artichoke hearts atop that. AGGGHHH. It was divine. We also got an appetizer of Bang, Bang Shrimp. Sweet and spicy and served with chopsticks. Yum!
(derek's signature "crazy lou" pose)
#1 McGuire's Irish Pub: The atmosphere in this place was the best! It was super, duper crowded and we thought we were going to have to wait forever. Then the hostess offers Derek immediate seating upstairs. Upstairs? Last time I was here I didn't even know they had an upstairs!! We headed up the stairs ladened with dollar bills (They are stapled to every square inch of the restaurant! Most are signed and dated.) There were open air windows squared out of the concrete walls with a breeze blowing in. It was heavenly. Our waiter left much to be desired, but the food made up for it. Heather and I split a caesar salad, filet mignon, and BROWN BREAD drizzled with honey. Ohhhhhh--it was so good. I hadn't had a filet mignon since my tenth birthday in Washington, DC. McGuire's Wins!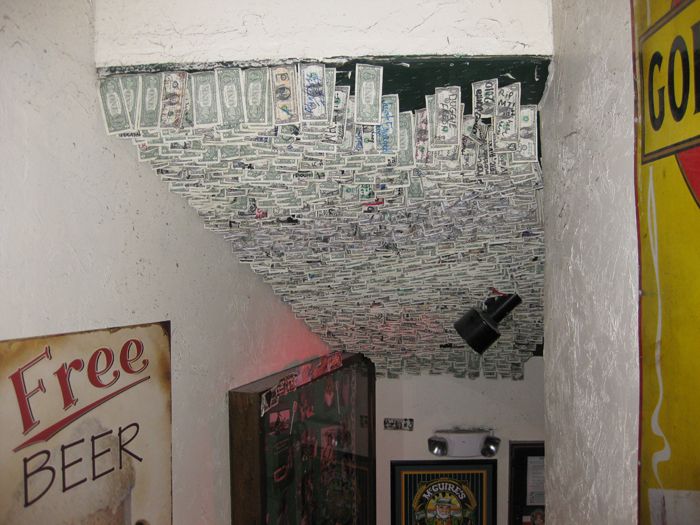 One last pic. When we stopped to get souvenirs for the girls, we happened to be right across from TGIFridays. This is where Derek and I celebrated our engagement 5 years ago last Tuesday!