The last post about my big girl's party. And it's all about the details. My favorite! I had so much fun planning little things for her birthday bash. The menu was all about easy outdoor foods. Derek and Daniel grilled up some delicious hot dogs.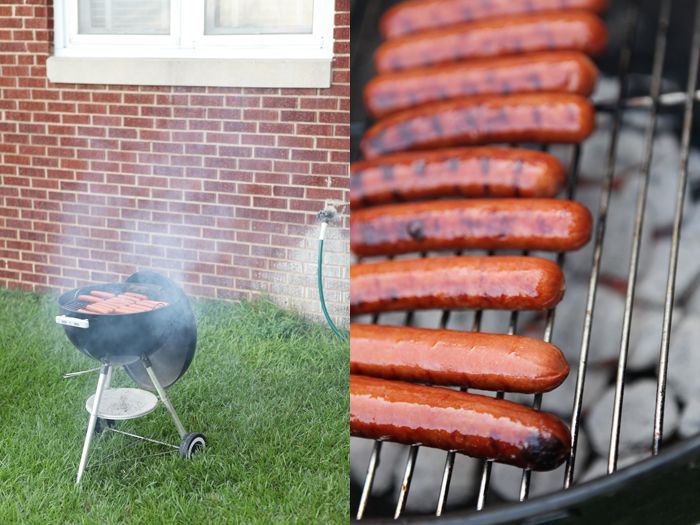 I used washi tape and labels from my awesome label maker (thanks Mom!) to add a festive touch to the condiments.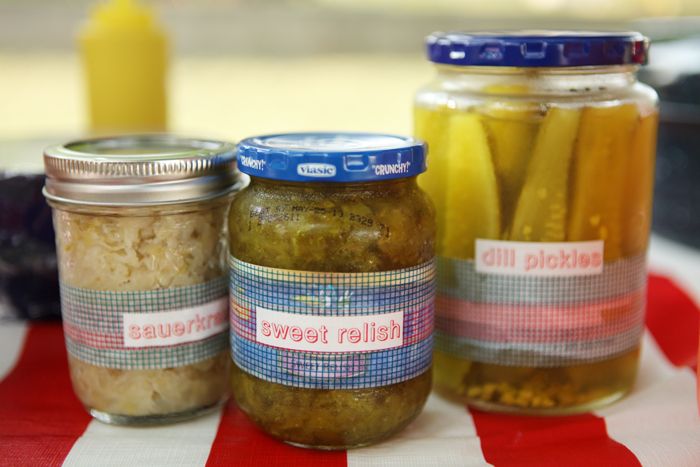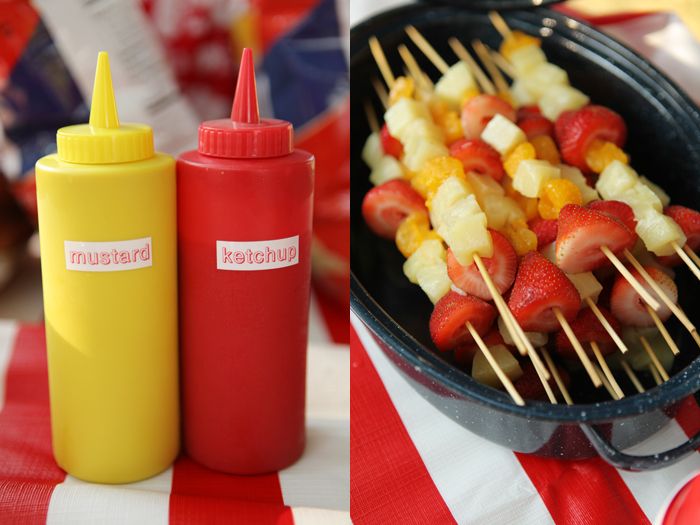 Originally, I was going to make fruit salad, but I thought it might get a little messy outdoors, so I did fruit kabobs instead. Also on the menu: wavy Lays and onion did, tortilla chips and homemade salsa, ranch pasta salad, and italian pasta salad. For the kids I had cheerios and goldfish too.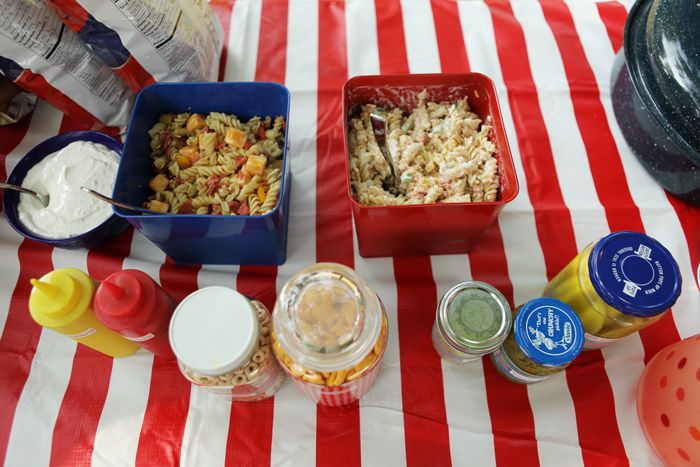 We needed something to wash all that good food down, so we had glass bottle Cokes on ice.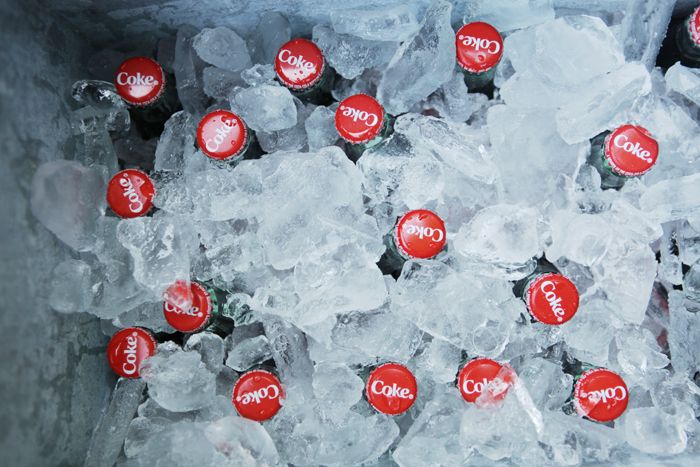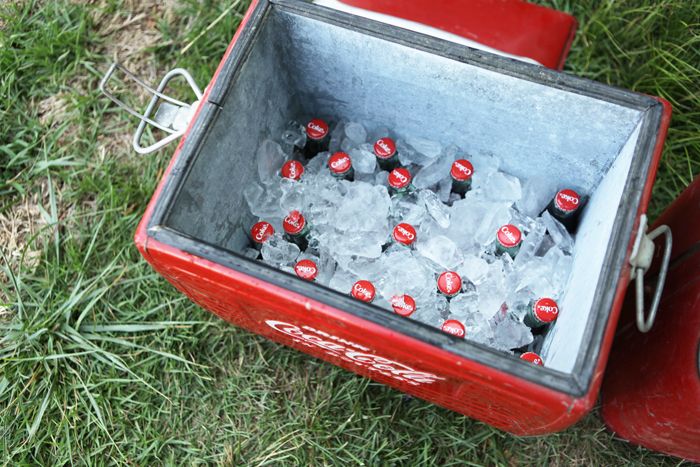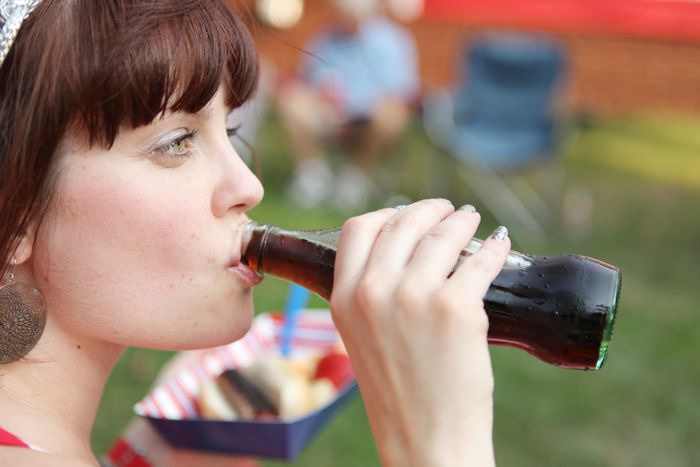 And tangy fresh lemonade with strawberry ice cubes. I used star ice cube trays but they melted so fast you can't tell! This lemonade was so good. I used
this
recipe and I will definitely use it again. Mmmm.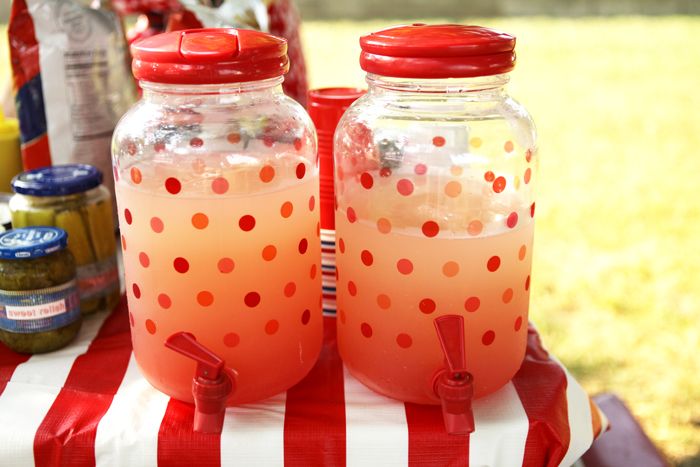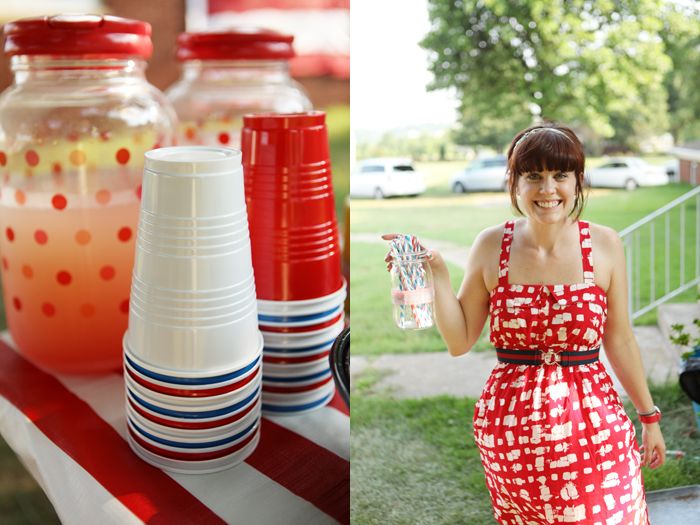 I found the cutest red, white, and blue patterned paper straws at
Shop Sweet Lulu
that I just couldn't resist.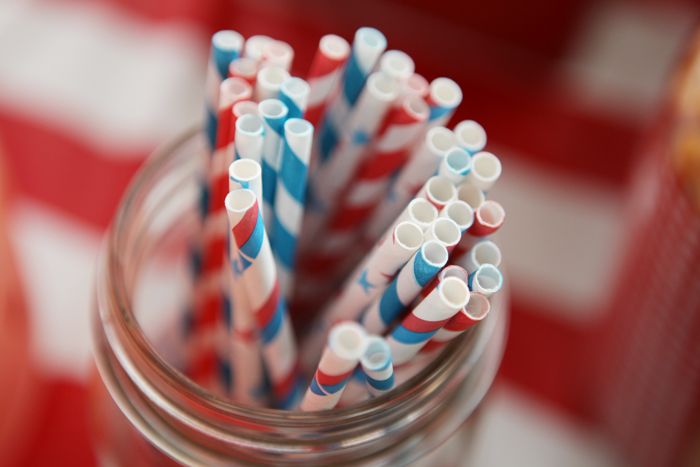 This girl knows when she's hungry!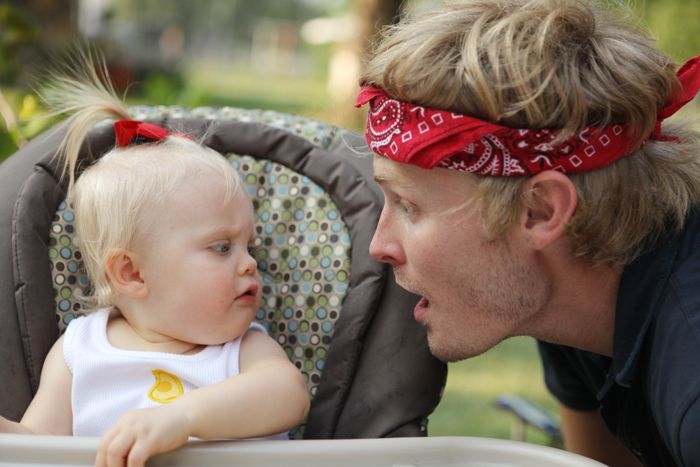 Eating corn, peas, carrots, and green beans. And giving Uncle Darren a taste.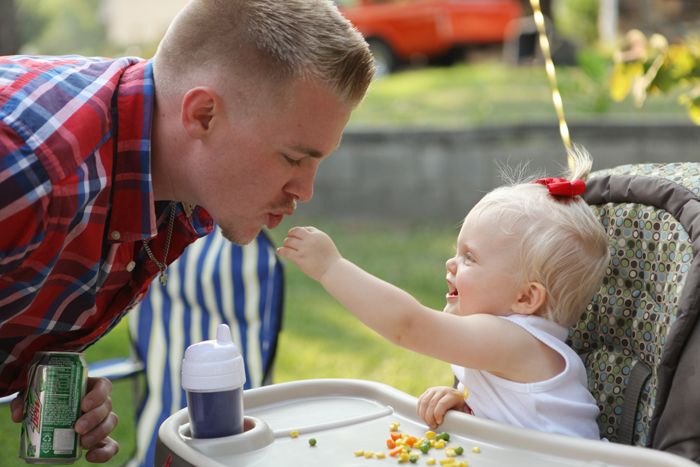 Little did she know that she really wanted some of that pasta salad. We've been eating leftovers this week and Ingrid loves both kinds of pasta salad. And chocolate covered strawberries of course.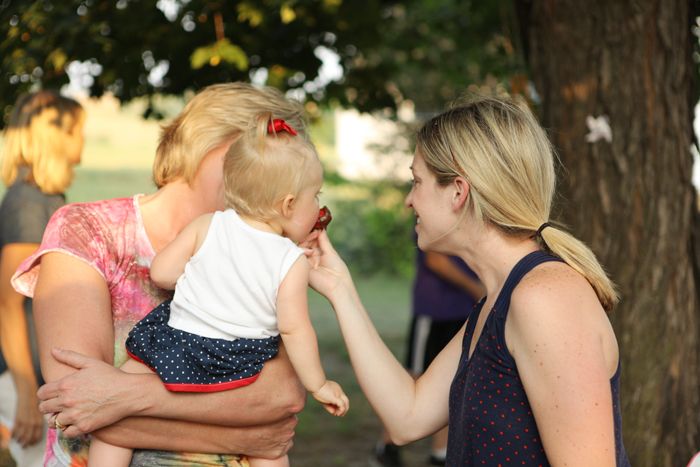 I think everyone enjoyed the food!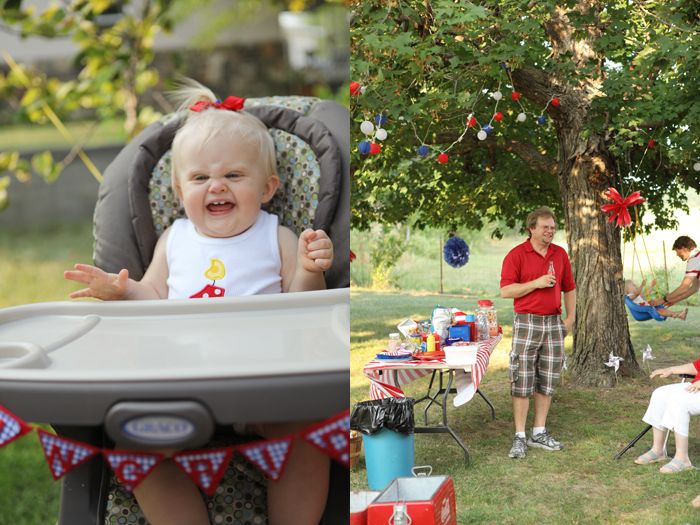 Outside we decorated with tissue pom-poms, paper sack flowers, and pinwheels that I made. Derek also strung red, white, and blue paper lantern lights up in the party tree.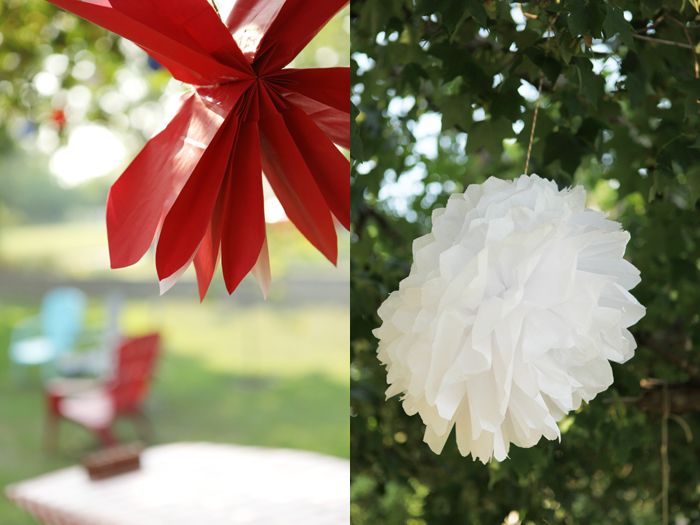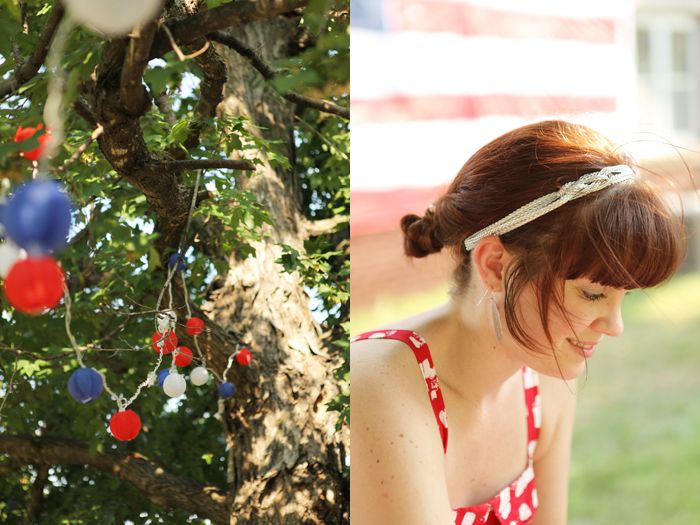 Inside I decorated with a photo wall of Ingrid. I matted the 5x7 pics on alternating red and blue paper. I stuck the photos on with washi tape so no sticky was left behind. I started with one week old, then showcased monthly photos all the way up to 11 months.
(We haven't taken her 1 year photos yet).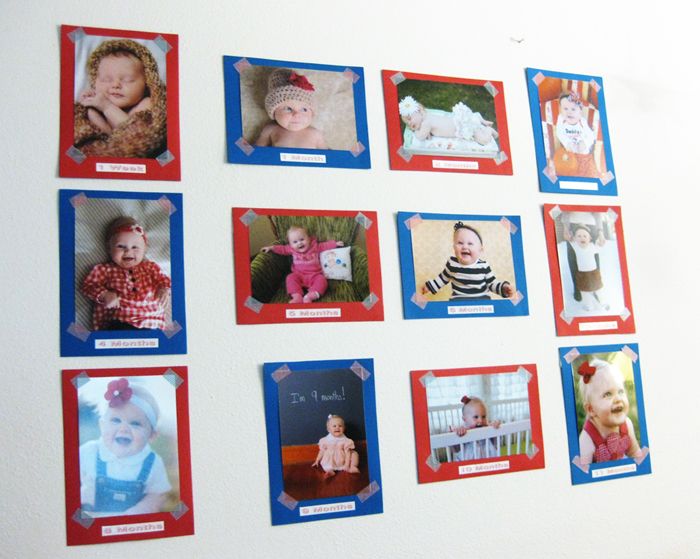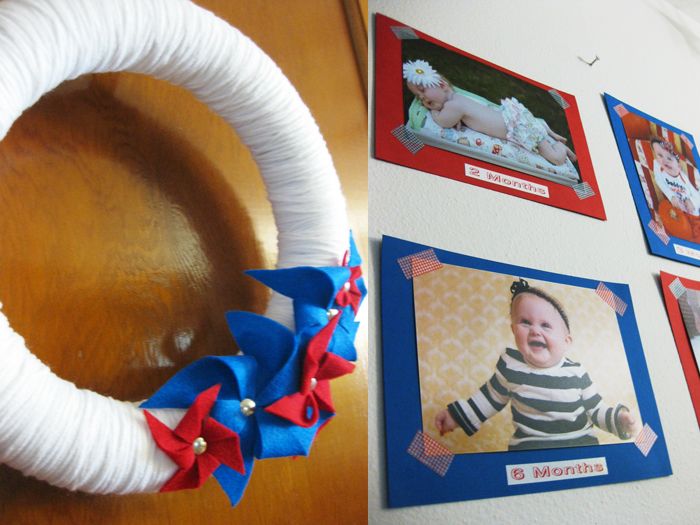 I also made a yarn wreath with some felt pinwheels to hang on the door. Ingrid's birthday banner was made with my Cricut. I hung some tissue paper flowers, circle garland, and stars throughout the space.
One of my favorite decorations turned out to be the sand-filled hurricanes. We used glass hurricanes left-over from our wedding and I decorated them with washi tape, scrapbook paper, and labels. I stuck a few pinwheels in the top.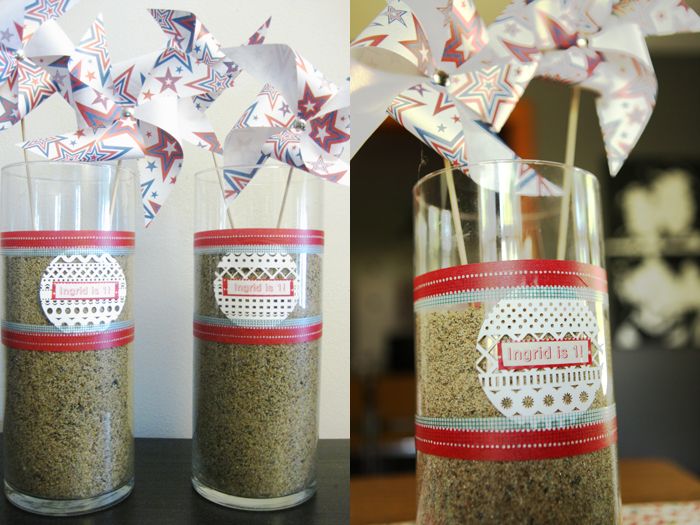 Thanks so much for letting me share every detail of Ingrid's first birthday party!